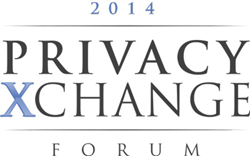 SCOTTSDALE, Ariz. (PRWEB) October 20, 2014
The second annual Privacy XChange Forum will be held on November 2-4 in Scottsdale, Ariz. With data breaches and hacking incidents occurring daily, the award-winning conference will focus on life in a post privacy world – the idea that privacy is forever gone as businesses and consumers are faced with the new normal of exposure of personal information. The conference is hosted by IDT911, a provider of identity and data risk management, resolution, and education services.
Target, Home Depot, Healthcare.gov, and JP Morgan Chase are just a handful of the companies making headlines after sensitive customer information, like account information and financial information, was breached. In total, nearly half of Americans have had their privacy breached, and the number is continuously growing, according to Ponemon Institute.
Keynote speakers include investigator and famed breach news breaker Brian Krebs and entrepreneur of new technologies Kevin Ashton, who also coined the term "Internet of Things". Speakers span a wide variety of industries and hail from companies and organizations like Macy's, Intuit, Sophos, Federal Trade Commission, California Department of Justice, Future of Privacy Forum, U.K. Information Commissioner's Office, and more.
The conference will identify the exposure points that allow criminals to piece together a roadmap of our personal lives and business identities, bringing companies and consumers to their knees with the damage they can cause. Attendees will learn how to respond to current and emerging threats with proactive and reactive identity management and data risk services and will learn how they may shape their businesses to respond to customer needs – including ramifications for insurance coverages. The event provides an opportunity to explore these topics with practical takeaways for businesses and consumers, insight into corporate and government actions and responsibilities, and what the future of privacy may hold for us all.
Sessions include:

Bull's-Eye: Why High-Risk Industries Are Data Breach Targets
Small Business, Big Breach: Keeping SMBs Safe, Not Sorry
Breach Aftermath: Getting a Grip on the Uncertain
Ahead of the Pack: Emerging Risks for 2015
Even Keel: Striking a Balance Between Privacy and Progress
Keynote Brian Krebs has made a career of exposing breaches and reporting on the insidious ways of the cyber underground on his blog Krebs on Security. He gained international notoriety, and a movie deal, in the past year alone making him the cybersecurity world's most wanted.
"Consumers are vastly unaware of the underground world that exists and the quantity of data spewed online from massive breaches and hacks reported in news headlines," said Krebs. "Cybercrime has gone from being a spare change hobby to a job with a six figure paycheck, and encompasses everything including malware, identity theft, credit card fraud, commercial breaches, and more. Through thought sharing events like the Privacy XChange Forum, businesses can glean information to help keep thieves' hands off their data, and experts can share and learn from each other about sneaky new tactics and schemes."
Conference Co-Chair, Founder of IDT911 and Credit.com, and Former New Jersey Director of Consumer Affairs Adam Levin said, "Because too many companies have adopted a laissez-faire attitude toward privacy and cybersecurity, data breaches and the identity theft that flows from them have evolved from being the third certainty in life to a dead certainty. While public outrage has fostered greater regulation, hefty financial penalties and class-action lawsuits, forcing businesses to sit up and take notice, we cannot achieve the level of privacy protection to which we aspire without true collaboration, cooperation and communication among businesses, government, media and consumers. That's why it is vital that government officials and executives across all industries start openly talking about the 'Privacy of Things' and what pro-sharing and pro-privacy means for their enterprises, their customers and clients, and for the security of our nation. We are gratified the Privacy XChange Forum is at the forefront of the conversation."
To learn more about the conference, please visit http://www.privacyxchangeforum.com or pxf(at)idt911.com.
About IDT911™ (IDentity Theft 911®)
Founded in 2003, IDT911™ is the nation's premier consultative provider of identity and data risk management, resolution, and education services. The company serves more than 18.5 million households across the country and provides fraud solutions for a range of organizations, including Fortune 500 companies, the country's largest insurance companies, employee benefit providers, banks and credit unions, and membership organizations. A subsidiary of IDT911, IDT911 Consulting™ provides information security and data privacy services to help businesses avert or respond to a data loss incident. Together, the companies provide preventative and breach response services to more than 770,000 businesses in the United States, Canada, and the United Kingdom. IDT911 is the recipient of several awards, including the Stevie Award for Sales and Customer Service and the Phoenix Business Journal Tech Titan award for innovation in breach and fraud-fighting services. The company is the organizer of the Privacy XChange Forum, an annual conference that brings together high-profile privacy thought leaders. For more information, please visit http://www.idt911.com, http://www.idt911consulting.com, http://www.facebook.com/idt911, and http://www.twitter.com/idt911.