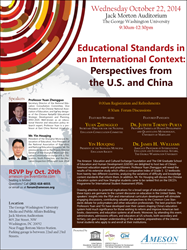 (PRWEB) October 17, 2014
On Wednesday, October 22, two of China's top education experts will unveil their new research at a forum in Washington, DC. The forum will spotlight discussions on education standards around the world and the implications for policymakers, administrators, curriculum developers, teachers, admissions officers, and other education sphere stakeholders in the United States.
Professor Yuan Zhengguo, Secretary Director of the National Education Consultation Committee, will reveal the results of his extensive study which offers a comparative index of Grade 1- 12 textbooks from twenty-two different countries, analyzing the variations of difficulty and knowledge content standards that inform them. In addition, Mr. Yin Houqing, the president of the Shanghai Municipal Educational Society, and former Deputy Director General of the Shanghai Municipal Education Commission in charge of K-12 Education, will discuss the Chinese education system and how Shanghai students came to be ranked first on the OECD's Programme for International Student Assessment (PISA).
Drawing attention to potential implications for a broad range of educational issues, these topics are germane to the current discourse on education in the United States. The speakers' insights into the PISA and international curriculum development will stimulate engaging discussions, contributing valuable perspectives to the Common Core Standards debate for policymakers and other education professionals. The best practices that Professors Yuan and Yin have developed over their careers shaping China's education system hold much significance for those wishing to reform and improve American textbooks, classrooms, and education systems at all levels. Moreover, by attending this event, administrators, admissions officers, and educators at US schools, both secondary and tertiary, can gain a deeper understanding of the academic preparedness of the international students who apply to and enroll at their institutions.
Other panelists include Dr. Judith Torney-Purta, Professor Emerita of Human Development and Quantitative Methodology at the University of Maryland, College Park and Dr. James H. Williams, Associate Professor of International Education and International Affairs at the George Washington University. Madelyn Ross, Director of the Global Consortium and Director of China Initiatives at George Mason University, will moderate the forum, which is also a UNESCO Chair event. The Ameson Foundation's Vice Chairman, Professor Sean Zhang, will be in attendance.
The forum will be held on Wednesday, October 22, 2014 from 9:30 AM-12:30 PM, in The George Washington University's Jack Morton Auditorium (805 21st St. NW, Washington, DC 20052). On-site registration begins at 9:00 AM. Refreshments will be provided.
The event is free and open to the public. Please kindly RSVP online at http://ameson-gw.eventbrite.com. Seating is limited.