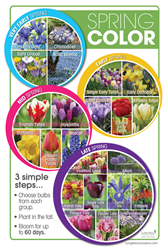 You want to set yourself up for success—and lots of flowers—by selecting bulbs that grow best in your area of the country.
Lakewood, NJ (PRWEB) October 23, 2014
With cooler temperatures and moist soil, fall is the best season for planting. And whether you're beginning a garden for the first time or tending an old one, planting flower bulbs has never been easier with Longfield Gardens' new infographic and 1-2-3 instructions.
"Bulbs are the gateway to the garden," said Hans Langeveld, co-owner of Longfield Gardens. "Plant them now and forget about them! By the time spring rolls around, the garden will be full of buds ready to blossom."
Bulbs are a fantastic way to start or maintain a garden because they spring back up each year without any effort.
"The key to ensuring your bulbs return beautifully each year is to plant them correctly now. Don't worry! Planting a bulb is as easy as 1-2-3. The hardest part is deciding which color scheme to use," Langeveld promises. "Our new infographic helps gardeners have success with that process, too."
Illustrating how to enjoy 60 days of spring flowers, this new infographic ensures that spring gardens will be filled with beautiful, blooming bulbs.
Below Langeveld details the easiest, most efficient way to plant a bulb, and offers expert advice on everything— from the right time to plant to design tips for a naturally chic garden.
Selecting the Best Bulbs
Three factors need to be taken into account when planning a garden: bloom time, planting time and region.
"For a constantly colorful garden, plan for your flowers to bloom in succession, or one variety after another," Langeveld suggests.
When selecting bulbs for a garden, consider the time of the season it blooms. Bloom time could be early spring, mid-spring, late spring or summer.
To determine when to plant bulbs, first identify what hardiness zone the garden falls under by visiting the interactive map and clicking on the desired region of the country for planting.
"You want to set yourself up for success—and lots of flowers—by selecting bulbs that grow best in your area of the country," Langeveld said.
Research the best time of the year to plant by referencing this map before ordering your bulbs.
Dark Purple areas should plant bulbs from October to December, medium purple should plant from September to November and light purple should plant from September to October.
Planting Bulbs
Planting the bulbs is as easy as 1-2-3. Follow the steps below to create a flawless garden.
1. Dig a hole 3-4 times deeper than the bulb height.
2. Set bulbs firmly in place, following spacing guidelines.
3. Cover with soil and water thoroughly.
"Remember when planting bulbs to avoid the temptation to plant them in single rows. For the most natural look, group them in a pyramid, rectangle or circular shape," Langeveld said.
Flower bulbs are a low-maintenance way to expand or start a garden and create a stunning look year-after-year.
Order bulbs now to prepare for the upcoming fall-planting season.
Longfield Gardens is one of America's top importers of quality flower bulbs. Longfield's mission is to bring bulb gardening into every home, offer common sense planting information and stretch your dollar by offering competitive prices that are transparent. This simple approach to selling bulbs saves their customers time and money while increasing gardening success. Longfield Gardens carries an impressive selection of spring-planted, fall-planted and winter product lines, as well as information and inspiration. For more information, visit the website at http://www.longfield-gardens.com or visit the blog at blog.longfield-gardens.com.