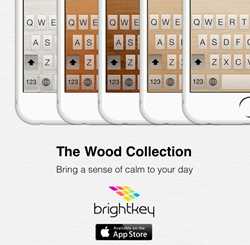 "With this release, we're taking it a step further by providing a beautiful set of themes that are natural and calming, while adding sophistication into the underlying technology to make it easier to communicate across all the apps we use every day."
San Francisco, CA (PRWEB) October 19, 2014
Brightkey Limited, maker of the Brightkey keyboard for Apple's iPhone, iPad, and iPod touch devices running iOS 8, is pleased to announce immediate availability of its latest version. Incorporating features most requested by users, Brightkey keyboard now offers user configuration of the Quick-fire™ messages that can be inserted into any text, tweet, email, post, or update with a click, saving users repetitive typing and ensuring quicker replies.
"iPhone users love the Quick-fire™ messages and we are thrilled to be able them the ability to personalize and customize the quick replies available across all apps", said Matthew De Santis, Chief Executive Officer of Brightkey. De Santis continued to explain that the pre-written messages are "underneath" the keyboard, and are accessed by swiping up from the bottom and quickly inserted into any message."
Other brand new features include a delightfully simple solution to undo unwanted keyboard auto-corrections. By simply hitting the backspace key, the word will revert to exactly what the user typed. The release also includes the new Wood theme set, which adds five additional themes in beautiful wood styles ranging from light ash to dark chocolate tones. These new keyboard themes, which can be selected at no charge, complement the existing eight color and metal themes that are already included in the Brightkey application.
"Brightkey users understand the importance of color and design in their iOS 8 keyboard experience, which is why we are pleased to introduce the beautiful and calming Wood collection", said Ramsey Pryor, Chief Revenue Officer of Brightkey.
Pryor continued, "With our initial release, we wanted to give people a familiar keyboard layout and experience, with themes that would perfectly match their iPhone - including the new iPhone 6 and 6 Plus as well as older versions. With this release, we're taking it a step further by providing a beautiful set of themes that are natural and calming, while adding sophistication into the underlying technology to make it easier to communicate across all the apps we use every day."
The update is now available worldwide via the Apple App store and is free to both new and existing users. For additional information, visit brightkeyapp.com
About Brightkey
Brightkey (Software) Ltd. is an angel-backed startup software company that launched its high quality third party virtual keyboard, called Brightkey Keyboard, for Apple's iOS operating system on September 17, 2014.
Media Contacts and Assets
Please contact media(at)brightkeysoftware(dot)com or telephone us directly at +1-925-391-0490.