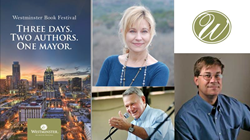 During their lifetimes, our residents have woven a fabric of experiences about family, work, religion, travel, war and peace, all of which create provocative life stories, says Marketing Director Heather Hart-Potts
Austin, TX (PRWEB) October 20, 2014
Last week, Westminster hosted the first major book festival sponsored by an Austin-area senior living community. Featured guests included nationally acclaimed journalist, Skip Hollandsworth, screenwriter for the movie, Bernie, staring Shirley MacLaine, Matthew McConaughey and Jack Black, and also showcased author Elizabeth Crook, whose recent book Monday, Monday, follows three fictional survivors from the UT Tower massacre as their lives became entwined for the next 40 years. Mayor Lee Leffingwell, the Austin Public Library Friends Foundation and the Writers' League of Texas also participated in the festival, which concluded with a "mini book fair" where Westminster authors showcased books on subjects from architecture and poetry to D-Day and the JFK assassination. Film and book sale proceeds from the event will be donated to the Austin Public Library Friends Foundation.
"Austin is home to one of the fastest-growing populations of pre-seniors and seniors in the country, and I believe that this is partially due to our city being young at heart. All ages of Austinites celebrate literacy, learning, and our city's creative culture," said Mayor Lee Leffingwell, founder of the Task Force on Aging that helps to ensure that Austin is an age-friendly city that provides a good quality of life for seniors.
On Day One, Hollandsworth kicked off the festival to a packed audience, offering a humorous, behind-the-scenes account of the making of the film, Bernie, produced by Austin filmmaker Richard Linklater, who recently debuted another Texas film, Boyhood. According to Hollandsworth, the Bernie audience at this festival was one of the "best ever," drawing a cast member and an audience that couldn't stop laughing.
On Day Two, Crook discussed the inspiration of her fourth novel, Monday, Monday, which was inspired by an article titled "96 Minutes," written by Hollandsworth's Texas Monthly colleague, Pamela Coloff, who went back 40 years after the accident, to tell the personal stories of survivors, families of the deceased, and witnesses whose lives were forever changed.
Audience members shared personal memories of that day – many were on or near campus – and Elizabeth discussed how that tragedy shapes responses to mental health and campus violence today.
On Day Three, Mayor Leffingwell joined Tim Staley, executive director of the Austin Public Library Friends Foundation to call attention to the many literary resources available to seniors in Austin. Staley presented the architectural plans for the new Central Library, coined "The Library of the Future," which will feature "boundless knowledge accessible through cutting-edge technology, extensive print and digital collections, and dynamic and enriching programming" for people of all ages. According to Staley, to accommodate patrons aged 55 and older, this library, opening in 2016, will offer interactive features including:

Adaptive equipment including larger screens and keyboards, and access to large print books;
Free computer training and technology assistance;
Public spaces for film screenings, music concerts, and cooking demonstrations, where patrons can learn about healthy eating and celebrate Austin's culinary consciousness;
Virtual Libraries to stream, download and access materials online 24/7;
Adult book clubs and workshops for Caregivers of Seniors;
Recycled Reads, the Austin Public Library's zero-waste store; and,
A self-publishing print press that transforms manuscripts and biographical history into bound books.
Committed to promoting the craft of writing, the Writers' League of Texas (WLT) described affordable workshops designed to help students of all ages and abilities to find their voice and genre. With a statewide membership, the Writers' League offers discussions and workshops year-round on a wide range of subjects from character development to fiction to memoir writing.
"Everyone has a good story. Creativity has no limits and Austin will always have a passionate class of readers, writers, story tellers and journalists who remind us of our history and keep our minds active," said Jennifer Ziegler, program director for the Writers' League.
One of the nation's premier retirement communities, Westminster promotes its rich creative culture imbued within its 475+ residents including esteemed authors, artists, professors, teachers, executives, scientists, elected officials, foreign and civil service officers and military. Westminster also boosts an impressive onsite library collection of more than 1,200 titles.
"During their lifetimes, our residents have woven a fabric of experiences about family, work, religion, travel, war and peace, all of which create provocative life stories," says Heather Hart-Potts, Marketing Director and organizer of this first-of-a-kind Book Festival, where a dozen resident authors showcased their books. "Westminster hosted this book festival two weeks prior to the Texas Book Festival to generate excitement among seniors who have great appreciation for the written word. It is the only book festival in Austin geared towards seniors."
###
About Westminster
Established in 1967, Westminster is one of Austin's first and most established retirement communities. Operating as a not-for-profit community, Westminster is managed by Life Care Services LLC and provides modern residences, state-of-the-art health care and other amenities to residents seeking comfortable and culturally enriching lifestyles in Central Austin. For more information, call (512) 454-4711 or visit http://www.westminsteraustintx.org.