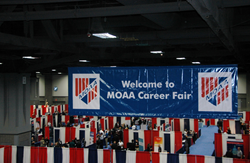 Alexandria, Va. (PRWEB) October 20, 2014
A complimentary career fair for all officers, enlisted, active duty, retired, former and National Guard/Reserve servicemembers and their spouses and government employees will be held from 9 a.m. to 1 p.m. (pre-career fair seminars begin at 8 a.m.) Tuesday, Oct. 28 at the Sheraton Pentagon City Hotel, 900 S. Orme St., Arlington, VA 22204. The career fair is hosted by the Military Officers Association of America (MOAA).
Employers from 50 regional and national companies will look for potential employees in a variety of job skills. Businesses and organizations attending include Alion Science and Technology, Bank of America, Edward Jones, National Security Agency, Lockheed Martin, Zeiders Enterprises, Inc. and more.
Several free, 60-minute pre-career fair transition seminars are open to the public. The "How to Work a Career Fair" seminar will be held from 8 a.m. to 8:30 a.m. "Be Your Own Boss! Exploring Entrepreneurship Panel" will be held from 11 a.m. to 12 p.m. Afternoon seminars include "Federal Job Application Preparation," which will be held from noon to 1 p.m., and "Developing Your VA Benefits Claim" will be held from 1 p.m. to 2 p.m.
Click here to access job-seeker registration. For more information, call toll-free (800) 234-MOAA (6622) (Monday through Friday 8 a.m. to 6 p.m. EST), email career(at)moaa(dot)org or visit http://www.moaa.org/careerfair.
MOAA is known as a leader in military-to-civilian career transition and has been helping military personnel obtain second careers for more than 60 years.
This fair is being held in conjunction with MOAA's annual meeting. To register or see a full schedule of events, go to 2014 Annual Meeting or http://www.moaa.org/2014AnnualMeeting/
Get a head start by attending MOAA's Pre-Career Fair Networking Event, Tuesday, Oct. 21, 2014, from 6 p.m. to 8 p.m. at the Ritz Carlton at Pentagon City, 1250 South Hayes St., Arlington, VA. A pre-networking event seminar, "Dress For Success" will begin at 5:15 p.m. Meet with employers and other MOAA members who have successfully made their transitions. The event is open to all.
# # #
About MOAA:
Military Officers Association of America (MOAA) is the nation's largest officers association with more than 380,000 members from every branch of service, including active duty, retired, National Guard, Reserve, and former officers and their families and survivors. MOAA is a nonprofit and politically nonpartisan organization and an influential force in promoting a strong national defense. MOAA represents the interests of service members and their families in every stage of their lives and careers, and for those who are not eligible to join MOAA, Voices for America's Troops is a nonprofit MOAA affiliate that supports a strong national defense. For more information, visit http://www.moaa.org or http://www.voicesfortroops.org/.
Members of the news media who wish to be added to our media distribution list for MOAA news releases, please contact requestnews(at)moaa(dot)org. Visit MOAA's Multimedia & Press Room at http://www.moaa.org/media/default.htm.