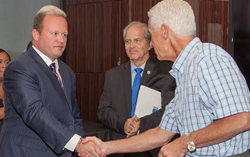 We need greater protection for law enforcement officers
Orlando, Florida (PRWEB) October 20, 2014
With a mere 19 days to November 4, a fired-up former Gov. Charlie Crist made a brief fundraising stop at the  Law Offices of Dan Newlin in Orlando on Thursday.
Fresh from a debate last night with his opponent Gov. Rick Scott, who refused to take the stage for the first seven minutes because Crist had an electric fan underneath his podium, the former governor described the incident in one word: "weird."
Before touching on his well-known campaign themes, Crist expressed deep appreciation to all those who had contributed to the campaign, which will allow Democrats to get their message out. Scott's campaign has committed to spending $100 million, he said.
"It's a race about trying to help people who need help in the middle class, who need an opportunity to do better, people who need health care and to expand Medicaid," said Crist. "There are a million of our fellow Floridians that aren't getting health care today because Rick Scott has failed on that front, sadly."
Crist also mentioned other topics, including expanding educational opportunities, appropriate compensation for teachers, protecting the environment and improving transportation, in particular high-speed rail, which Scott rejected three years ago along with $2.4 billion in federal funds.
Meanwhile, attorney Dan Newlin, in addition to hosting the fundraiser, also had other things on his mind.
He is exploring changes to legislation that will offer greater protection for law enforcement officers that could help prevent serious injury or their being killed in the line of duty. Particularly at the forefront of Newlin's mind was the shooting death of Windermere Police Officer Robert German, killed by a couple who had been declared missing and endangered, in March, earlier this year.
"This is not political. This is about planting a seed to allow new legislation to grow that will help protect law enforcement officers from serious injury or death, similar to what happened to Officer Brandon German, by requiring anyone who reports a missing or endangered person to tell police that the individual is armed or could be armed," said Newlin, also a former Deputy Sheriff.
He added: "In the case of Officer German, that requirement wasn't in place and had it been, there is a high likelihood he would still be alive and with us today."
Crist closed out the fundraiser by underscoring the importance of voting - whether by mail or on November 4, election day - if the party is to be victorious.
"Whether you vote by mail, which starts in most counties on Monday, or whether you vote on election day, stay in line," he said. "Do not be deterred, do not be dissuaded from staying in the line and casting your vote."
"Everybody counts, everybody matters, but only if you show up and only if you cast that ballot," Crist urged. "I am looking forward to November 4."
For more information about the Law Offices of Dan Newlin call direct, 407-888-8000 (Central Florida) or 312-888-8000 (Chicago) or visit http://www.newlinlaw.com or http://www.newlinlaw.com/Chicago