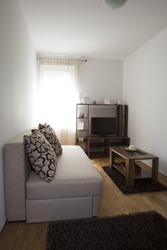 Don't forget the yard is part of the house too!
Chicago, IL (PRWEB) October 17, 2014
The Federal Savings Bank knows that after living in a small house for some time, one is ready to trade up to something bigger and better.
If feeling like the walls have been closing in for some time, and that cozy charm house no longer feels the same it may be time to get something more spacious. However, one may be confused how to convince potential buyers to purchase the small property.
Here are four steps The Federal Savings Bank offers to get a small home off the market in no time:

Clean the space and declutter. Although a smaller house should have been convicing to spend less and avoid acquiring furniture and other items one does not need, one may still have some clutter. When buyers enter the house and see that possessions don't have a place, they may assume the property can't offer the storage space they need. Take some time to evaluate which items are needed and which ones can be tossed in the trash or donated. Once the number of possessions have been downsized, neatly organize what's left.
Brighten the home. Darkness tends to make a space feel more cramped than it actually is. When potential buyers are visiting the home, make sure the blinds and curtains are open to let in a lot of light. Also, move any items that may be obstructing the light. For evening showings, ensure all of the light bulbs are functional.
Take advantage of exterior space. Don't forget the yard is part of the house too! If there is a decent amount of outdoor space, add some furniture to extend the living space beyond the house. This can include setting a few chairs and a table on the deck or patio.
Understand the advantages. While there are many ways one can make the home appear larger, some buyers won't be able to look past the size. In these cases, one must be able to list all the benefits of owning a small house. These properties are more energy efficient, and maintenance is easier and more affordable. Plus, cozy homes are useful for homeowners who want to curb excess spending and downsize their lifestyles. These details can be included in the listing and mentioned during an open house or showing.
Once a buyer has been found, contact The Federal Savings Bank, a veteran owned bank, for information about affordable financing for the new property.