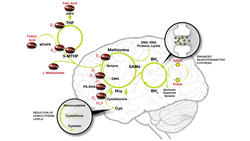 "We finally have an agent that gets to the root cause of depression, instead of just treating the symptoms." Andrew Farah, MD, Chief of Psychiatry, UNC/High Point Regional Health Systems
Sunset, LA (PRWEB) October 19, 2014
Depression affects up to 11% of teens, with symptoms ranging in extremes from social isolation to self harm. There is only one drug FDA approved for use in this group, Prozac/Fluoxetine, and it comes with common SSRI side effect warnings: nausea, headaches, anxiety, insomnia, drowsiness, and loss of appetite, as well as withdrawal reactions such nausea, nervousness, and insomnia when the drug is stopped.
Parents of depressed teens need and want other alternatives. Dr. Andrew Farah, MD, Chief of Psychiatry of UNC/High Point Health Care encounters parents hesitant to accept standard antidepressant therapy due to side effect risks, including increased suicidal thoughts. He routinely prescribes EnLyte, advanced generation folate therapy, for this population with excellent results. EnLyte does not carry the same side effect warnings of other options, is well tolerated, and easily dosed once a day, which makes it easy for patients to be compliant.
According to Dr. Farah, "We finally have an agent that gets to the root cause of depression, instead of just treating the symptoms." Dr. Farah has released a series of case studies through JayMac Pharmaceuticals that are being well received by the medical community. The following synopsis reviews a fifteen-year-old female with major depression:
"HD was referred by her pediatrician due to suicidal thoughts. She had no major stressors or trauma, but sadness, excessive sleep, fatigue, and anhedonia that had gotten worse over the past year, as well as suicidal thoughts. This patient had been prescribed Vilazodone by her pediatrician, the dose being steadily increased, with little improvement over the course of a month. She was prescribed Enlyte once a day, to which another medication was added at her 6 week follow up. After three weeks of combination Enlyte-Escitalopram therapy, she was stable, in remission, and reporting no suicidal thoughts." Click here to download the complete case study.
The American Psychiatric Association recommends folate therapy as a reasonable augmentation strategy for Major Depressive Disorder that carries little risk and has a favorable side effect profile. Unlike SSRI's that block the reabsorption of the neurotransmitter serotonin, folates work at the presynaptic level to increase neurotransmitter production. Folate deficiency has been strongly linked to depression, yet common genetic defects such as the MTHFR enzyme polymorphism make it difficult for the body to absorb folate sources through diet and routine supplements. EnLyte contains 16 mgs. of Delta Folate-a proprietary triad of reduced folates with L-methylfolate magnesium as the primary component, all proven effective in treating depression, in addition to metabolites of critical b vitamin cofactors-b1, b2, b3, b6, and b12, and betaine, zinc, magnesium, vitamin c, and ps gold omega 3's. EnLyte bypasses the MTHFR polymorphism and the other 12 genetic defects common in mood disorders. EnLyte is gluten free, casein free, calcium free, and dye free and safe for use down to age 6. It is covered by many state Medicaid plans, private insurance with average national copays of $45/month, and Tricare for $17/month. Learn more at http://www.EnLyteRx.Com.