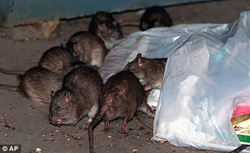 "Gopher Patrol will be the best $ you spend for your property! It really works." - Char B.
Riverside, CA (PRWEB) October 22, 2014
One of the leading pest control companies servicing all of Southern California, Gopher Patrol suggests that the end of fall is the perfect time to protect and prevent homes from incoming rodents looking for a nesting spot. It is almost certainly easier for rodents to get into the home than sometimes thought. The winter can be a tough season to maintain when the rodents have such a strong motivation to sustain themselves in an already established "home."
A few of the most common and easiest forms of prevention are:
Making sure the yard is neat and tidy; meaning cleaning and trimming those trees, branches, and plants that may be hanging over the home.
As well as maintaining a safe distance of 12 inches at least away from the foundation of the home.
Moving inwards, making sure there are weather strips in place helping aid in protection from not only rodents but pests such as spiders and earwigs looking for a warmer spot to stay for the winter.
If by chance one makes it in, limiting the amount of available food sources for them such as: having all food in sealed containers, pet food put away when not feeding time, etc.
The most effective way is prevention. However, if a few of the pesky creatures have made it in and there are noticeable droppings, Gopher Patrol a licensed and qualified pest control company, is offering a rodent and pest control special for this fall and winter of 2014. Being in the pest control business for over 17 years, they have managed to master the art of approaching each individual situation with extreme care and caution. Experience has made them experts at aiding home owners as well as commercial properties and property management companies with all of their pest control needs, ranging from gophers, rats, and voles to spiders, ants, and roaches.