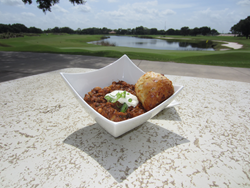 The Woodlands (Houston) , Texas (PRWEB) October 19, 2014
It's as American as apple pie and as diverse as the states that fiercely defend their recipes as the only authentic versions of this iconic national dish. Spicy and sweet, hot and hearty, seared with Tex Mex spices or rajun' with Cajun hot sauce and Andouille sausage, it's the stuff of culinary competitions from coast to coast. This fiery fare is chili and in October, National Chili Month, we celebrate this superb stew in all its infinite variety.
Restaurants at the Benchmark Resorts & Hotels® and Personal Luxury Resorts & Hotels® brands offer new twists on the national dish, while looking to local traditions and ingredients. Alligator Chili in the Florida Everglades, bison from resorts where the buffalo do indeed roam, pheasant, wild boar, brisket, Moroccan lamb and of course, a vegetarian chili are just a few of the creative chili dishes from Benchmark chefs.
Fort Lauderdale (Weston), Florida - Bonaventure Resort & Spa
Set on 55 lush acres on the edge of the Florida Everglades, the newly renovated Bonaventure Resort & Spa uses fresh ingredients right from the "Glades!"
Gator Chili
Ingredients
5 lb Ground Gator Tail
3 large onions, chopped
4 cloves minced garlic
1 can beer
1 can tomatoes
2 Tbsp. cumin
2 Tbsp. dried oregano
4 chili Habanero peppers chopped
1 Tbsp. Dried Ancho Chile
1 pinch Cayenne Pepper
2 Bell Peppers, seeded and chopped
2 Tbsp. Canola Oil
2 Tbsp. Olive Oil
4 Tbsp. Corn Flour
1 tsp. Brown Sugar
1 Tbsp. Thyme
6 cups Kidney Beans cooked
brown sugar - optional
Brown beef in two Tbsp. in hot oils canola and olive it will release liquid before it browns about a half hour. Set aside. In another pan cook onions in 2 Tbsp. of the oil until it starts to change color. Stir in bell pepper and cook until soft. Add garlic and cook 1 minute. Stir in Cumin, Oregano, Peppers, Chilies and Thyme cook 1 minute. Stir in brown beef season with salt and pepper. Pour beer and cook until foam disappears. Stir in tomatoes and sugar and bring to a boil and simmer uncovered for one hour stirring occasionally. Cover pan and simmer 2 hours. Stir a few times. Add beans and some of the liquid they were cooked in - cook 10 minutes. Check seasonings - serve topped with topped green onions.
San Antonio, Texas – Hotel Contessa
Set on San Antonio's fabled Riverwalk, Hotel Contessa's Las Ramblas Riverwalk Restaurant takes a Tex Mex classic to Morocco.
Moroccan Chili
Ingredients
1lb. ground lamb – cooked until grey and drained
1 bulb garlic – chopped fine
2 sweet onions – minced fine
1 plum tomato – peeled and chopped fine
½ preserved lemon – rinsed and minced fine
1 T. Ras el hanout – (Middle Eastern market will have)
3 14 oz cans tomato sauce – ( plain variety for cooking)
16 oz tomato juice
16 oz v-8 juice
1 T harissa paste
(Middle Eastern stores have it in small tubes)
2 14 oz cans garbanzo beans
4 dates – pit removed and minced
2 lemons - juiced
1 t sherry vinegar
Sugar - to taste but you will need about ¼ cup)
Salt – to taste
2 t Cracked black pepper
½ cup oil cured Moroccan olives – roughly chopped
½ bunch cilantro – chopped fine
1 T smoked paprika
2 T olive oil
Add onion, preserved lemon, garlic, dates and tomato in a sauce pan and set to medium low heat and stew down until very fragrant and color begins to darken. Add tomato sauce, cooked lamb, tomato juice, V-8 and half of the rasel hanout. Simmer for 25 min, then add: harissa paste, paprika, black pepper and garbanzo beans. Slowly simmer for about 2.5 to three hours on low heat. Add salt, sugar, lemon juice, vinegar, olives, the remaining ras el hanout and cilantro. Simmer an additional 25 - 30 min, adjusting salt, sugar, and lemon until balanced flavor is achieved. Enjoy with a piece of good pita, lavosh or naan, a dollop of Greek yogurt is also good.
Jackson Hole, Wyoming - Snow King Resort
The deer and antelope play on the spectacular Snow King Resort in the famed Snow King Recreation Area. Guests enjoy the best of the West with this hearty Smoked Bison Chili at The Post Restaurant.
Smoked Bison Chili
Ingredients
1 lb bison, coarse ground
2 lbs. buffalo brisket, smoked, large dice
3 T canola oil
2 cups onion, diced
1 cup peppers, red, yellow mixed, diced
2 T garlic, minced
1 can diced tomatoes, fire roasted
2 T tomato paste
1/2 cup chili powder, New Mexico & Ancho combined
1 T cumin, powder
1 ½ T sweet smoked paprika
1 T oregano, dried Mexican
12 oz. dark beer, bock or stout (Teton Amber or Mighty Bison)
1 cup butternut squash, peeled, seeded and cut in 1/2 cubes.
2 cups cooked 10 bean mix
1 T Salt
1 ½ tsp ground black pepper
2 cups beef stock
2 T corn masa flour (Masa harina)
Salt and pepper to taste.
Additional stock if needed to thin chili during cooking.
Heat oil in a large pot or Dutch oven over medium heat. Add ground bison and brown meat; drain. Add onion, garlic & peppers and cook for about5-10 minutes, stirring often. Add tomato paste. Add ancho chili, chili powder, cumin, paprika. Cook for 5-10 minutes, until aromatics are released. Add diced tomatoes & beer and simmer for 30 minutes. Add butternut squash, salt & pepper; simmer 45 minutes to 1 hour or until squash is just about fork tender, stirring occasionally to avoid sticking. Add masa harina, diced brisket, and bean stew and simmer uncovered for 1 hour, stirring often to prevent burning. Add beef stock or water as needed to achieve desired consistency. Taste for seasoning and adjust if necessary. Simmer uncovered for an additional hour, adding liquid if necessary. Allow to rest 15 minutes before serving Chill promptly, label & store.
Vero Beach, Florida – Costa d' Este Beach Resort
This hearty and healthy chili comes from the kitchens of the Costa d' Este Beach Resort, 7-time Grammy Award-winning legend Gloria Estefan's oceanside resort.
Pumpkin Three Bean Chili
Ingredients
2 tablespoons olive oil,
1 medium Onion, chopped,
1 medium sweet yellow pepper chopped
2 jalapenos chopped
3 cloves of garlic minced
8 oz. black beans, rinsed and drained
8 oz. garbanzo beans, rinsed and drained
8 oz. red kidney beans, rinsed and drained
1 pound pumpkin - diced
1 pound diced tomatoes
3 cups chicken broth
2-1/2 cups cubed grilled chicken thighs
2 teaspoons dried parsley flakes
2 teaspoons chili powder
1-1/2 teaspoons ground cumin
1-1/2 teaspoons dried oregano
1/2 teaspoon salt
In a large skillet, heat oil over medium-high heat. Add onion, pepper and jalapenos; cook and stir until tender. Add
garlic; cook 1 minute longer. In a large pot, put the 3 cups of chicken broth and diced pumpkin cook for 20
minutes. Add the grill chicken, tomatoes, all the beans and the ingredients you cook prior on the large skillet
together with the spices cook for other 20 minutes.
Colorado Springs, Colorado - Cheyenne Mountain Resort
At the luxurious Cheyenne Mountain Resort, Colorado lamb makes this chili as special as the views in
the Mountain View Restaurant.
Cheyenne Mountain Lamb & White Bean Chili
Ingredients
6 Tbl Canola oil
2lb. Lamb, ground
2 ea Onion, yellow, finely diced
.5 lb. Fennel bulb, finely diced
2 Tbl Garlic, minced
1lb. Eggplant, finely diced
1 cup Farro
4 Tbl Chili powder
4 Tbl Paprika
1 Tbl Cumin, ground
1 Tbl Garlic powder
2 tsp Cinnamon, ground
½ tsp Allspice, ground
2 tsp Kosher salt
1 branch Fresh rosemary
¼ bunch Fresh sprig thyme
2lb. Tomato, diced with seeds
2 lb. White beans, rinsed and cooked
6 Cup water
2 Cup veal stock
In a chili pot, heat canola oil over medium high heat. Add ground lamb, onions, fennel and garlic. Cook, stirring and breaking up meat with wooden spoon until the meat is no longer pink. Add eggplant and cook until eggplant has softened. Add the next 10 ingredients and cook, stirring, until aromatic. Next, stir in the tomatoes and white beans. Add water and veal stock and bring to a boil. Reduce heat to medium and allow chili to simmer, partially covered, stirring until the liquid is reduced, and the chili has thickened and the faro is tender.
Orlando, Florida – Villas of Grand Cypress
Chili has a wild side at the four-star Nine 18 restaurant at the Villas of Grand Cypress, a spectacular golf resort in the midst of Orlando's attractions.
Florida Wild Chili
Ingredients
2.5lb. wild boar
2.5lb. Alligator meat
4 Cups white beans (canned)
4 Cups black eyed peas (canned)
3lb. Spanish onion (small diced)
1lb. green bell pepper (small diced)
2 Ea habanero pepper (minced)
11 Cloves garlic (minced)
24 Ea tomatoes (concasse diced)
2.5 Oz cumin ground
2 Oz chili powder
1 Oz coriander ground
1 Bunch cilantro fresh (chopped fine)
1 Bunch Parsley fresh (chopped fine)
8 Oz white wine
24 Oz V-8 Juice
2 Tbs Blended oil
2 Kosher Salt and black pepper/ taste
Serves: 10-12
In medium pot on medium high heat add oil, alligator, boar and seasonings and cook until browned.
Now drain excess fat and add the onions, peppers and garlic and sweat the vegetable for five minutes.
Deglaze the pan with white wine and cook for five more minutes and add the diced tomatoes and V-8 Juice.
Now reduce the heat to a low simmer and cook for about 1.5 hours.
Add the drained beans and cook for an additional 20 minutes.
Next fold in the chopped herbs.
Just before serving finish with a dollop of citrus crème fraiche and slivered green onions for garnish.
Chicago, Illinois - Eaglewood Resort & Spa
Wild game, dark peppers, craft beer and tequila bring a rich blend of flavors to this innovative chili from Burnhams Restaurant at Chicagoland's Englewood Resort and Spa
Sugar Bush Pheasant Bison Tequila Beer Brick Bread Pasilla Pepper Chili
Ingredients
2 cups corn oil
24 oz. diced yellow onion
24 oz. dice celery
2 oz. roasted garlic
5 lb. diced bison round
5 lb. diced pheasant
.5 lb. flour
1.75 lb. tomato paste
2 TBS black pepper
1.5 oz. dark chili powder
1.5 oz. ground pasilla pepper
1 tsp cayenne pepper
2 tsp ground mustard
1 oz. Lea & Perrins Worcestershire Sauce
3 lb. diced tomato
7 oz. Danielson maple syrup
36 oz. Leinenkugel Beer
8 oz. tequila
1 gal. water
7 oz. beef base
.5 lb. whole butter
1 loaf unsliced white bread, (Pullman loaf)
In a hot soup pot add, corn oil, onion, celery, and garlic and sweat the vegetables. Add bison, pheasant and sauté 4 minutes. Add flour and make a roux. Add tomato paste and sauté till slightly browns. Add black pepper, dark chili powder, pasdilla pepper, cayenne pepper, ground mustard, and Lea & Perrins. Mix well into mixture. Add tomato and maple syrup and mix in well. Add remaining ingredients and bring to a simmer. Simmer for 20 – 30 minutes. Finish with whole butter.
Cut bread loaf into four equal parts and slightly trim off crust. Hollow out center and deep fry till golden brown. Place chili into bread brick and cheese the top and then gratin under a salamander. Garnish with garlic sour cream, red corn tortillas strips, shaved leeks, and julienned grills jalapenos.
Woodinville, Washington – Willows Lodge
There's a taste of Tuscany in this vegetarian chili from the Barking Frog restaurant in Willow Lodge in Washington State's Wine Country
Tuscan White Bean Chili with Smoked Salmon Cornbread
Ingredients
2lb. Cannellini beans dry, soaked overnight
Drain and set aside
3 ea Large Yellow onion, diced
4 ea Celery stalks, diced
3 ea Carrot, peeled, diced
6 ea cloves Garlic, minced
4 ea Bay Leaf
Sweat the bay leaf and vegetables until softened.
2C White Wine
Deglaze with the white wine
2 ea Red Peppers, roasted, peeled, seeded, diced
2C Oil Cured Tomatoes, chopped small
2T Oregano, dry
2T Chili Powder
Add in to onion mixture and cook lightly
10C Vegetable Stock
½ bunch rosemary, fresh
1 bunch thyme, fresh
Tie the herbs together
Add in the herbs, stock and beans, bring to a boil, reduce to a simmer and cook until the beans are almost tender. Remove the fresh herbs. 1bunch Lacccinato Kale, stems removed, leaves chopped into 1"pieces
1/4C Flat Leaf Parsley, chopped. Add in the kale and parsley, cook for a few minutes. Remove about 4cups of the beans, and puree with some of the liquid (to thicken), add back into the chili and season to taste with salt and pepper. Serves 6-8 people
Smoked Salmon Cornbread serves 6-8
1C Cornmeal
3/4C AP Flour
1T Sugar
1 ½ tsp Baking powder
½ tsp Baking soda
¼ tsp Salt
Mix all dry ingredients together, set aside.
2ea Eggs, lightly beaten
1 ½ C Buttermilk
6T Butter, melted
1 C Corn kernels
2ea Shallot, chopped fine
8oz Smoked Salmon, broken up into small pieces
Add into the dry ingredients and mix well.
Pour into greased 2" ½ pan
Bake at 400 degrees for about 20-25 minutes, until top is golden brown and pick inserted comes out dry. Cool about 10 minutes before removing from pan.
New Brunswick, New Jersey – The Heldrich
A spicy relish tops this innovative dish from Christopher's Restaurant at The Heldrich Hotel.
Smoked Paprika Beef Chili--Ancho Chili Sour Cream, Pickled Jalapeno Relish, Cheddar Jack Cheese
Ingredients
2 teaspoons oil
2 onions, chopped
3 cloves garlic, minced
1 lb. lean ground beef
3/4 lb. beef sirloin, cubed
1 (14 1/2 ounce) cans diced tomatoes
12 oz. cans tomato paste
2 # Diced Tomatoes
1 tablespoon cumin
1 Tablespoon Onion Powder
1 Tablespoon Garlic Powder
1 teaspoon cayenne
1 Tablespoons Smoked Paprika
2 teaspoon salt
1 # Cooked kidney beans
Relish
1 # Jalapeno's. Small dice
1 Red Onion, small diced
2 Tablespoons Cilantro, Chopped
1 clove Garlic, Minced
2 oz. Rice Wine Vinegar
1 oz. Olive Oil
Heat oil. Cook meat until brown drain excess fat and sauté onions and garlic until tender. Add in Tomato paste and cook for about 5 minutes. Add Beer & Deglaze pan. Add in Diced Tomatoes & Kidney Beans. Add spices Stir in. Reduce heat and simmer for 1 1/2 hours.
Relish
Cut Jalapeno in half and remove stem and seeds, cut into small dice. Mince garlic. Dice Red onion. Place into a mixing bowl. Chop Cilantro, add to bowl and remaining ingredients.
Rancho Santa Fe, California – The Inn at Rancho Santa Fe
Old California charm is the hallmark of the legendary Inn at Rancho Santa Fe and its Morada restaurant. Locally sourced ingredients make this chili memorable.
Morada Bread Chili Bowl
Ingredients
1 habanero chili
4 cups kidney beans, soaked for 6 hours
1 Spanish onion small diced
2 carrots small diced
3 ribs celery small diced
¼ cup chopped garlic
5 habanero chilies minced
2 tbl spoons dried oregano
2 tbl spoons chili powder
2 tbl spoons cayenne pepper
2 tbl spoons paprika
½ cup tomato paste
2 cups white wine
12 heirloom tomatoes peeled, seeded and diced
8 cups veal stock
In a sauce pot, sauté onions, carrots, celery, garlic & habanero for 5 minutes on high heat. Add tomato paste and mince, deglaze with white wine. Add herbs and spices and simmer for 3-5 min. add remaining ingredients, bring to a simmer and cook until beans are tender (45 min to an hour) season with salt and pepper.
About Personal Luxury Resorts & Hotels
Personal Luxury Resorts & Hotels® includes unique hand-picked properties in spectacular U.S. destinations coast to coast. Each hotel and resort delivers personal luxury in a spirit true to its own distinctive locale, yet in keeping with the collection's shared mission. They represent a select portfolio of Benchmark Hospitality International®, which has been a leading US-based hospitality management company for over 30 years. Personal Luxury Resorts & Hotels is the preferred choice of guests who yearn for transformation over accommodation, customization over conformity, and inspiration over predictability. With Personal Luxury Resorts & Hotels, luxury is always personal. http://www.personalluxuryresortsandhotels.com. To become a fan on Facebook, visit http://www.facebook.com/PersonalLuxuryResortsandHotels, or follow us on Twitter at http://www.twitter.com/PersLuxResorts.
About Benchmark Resorts & Hotels®
Benchmark Resorts & Hotels® represents the finest in lodging, dining, recreational and meeting accommodations. Many are certified by the International Association of Conference Centers, the leading professional organization governing the multi-billion dollar conference center industry on five continents, and many have also been recognized with the coveted Benchmark Conference Centers® certification of meeting excellence. Benchmark Resorts & Hotels deliver highly specialized service that anticipates guests' needs and ensures a hospitality experience unsurpassed and long remembered. http://www.benchmarkresortsandhotels.com. To become a fan on Facebook, visit http://www.facebook.com/BenchmarkResortsandHotels, or follow us on Twitter at http://www.twitter.com/BenchmarkHotels.