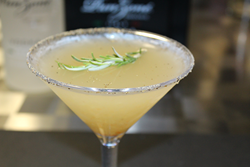 Nothing says luxury like Italian. From food and wine to fashion, cars and now vodka, Italy produces the best. - Frank Guerrera, CEO and Founder of Punzoné
New York, NY (PRWEB) October 20, 2014
Punzoné, the first line of ultra-premium organic vodka to be introduced in the U.S., has a lot to celebrate this month. October marks Italian Heritage Month – a time when our country recognizes the achievements and contributions of Americans of Italian heritage and Italians in America. October also marks the anniversary for Punzoné, and today it shares its favorite Italian cocktails and encourages everyone to enjoy its tradition and take a trip to Italy - even if it is only in a glass.
Punzoné continues to make headway in New York, New Jersey and Pennsylvania and has added hundreds of accounts over the last year with a reorder rate that exceeds the industry standard. Punzoné can be now be found at Wine Chateau in New Jersey, where brand ambassadors will be conducting mixology and tasting events on October 24th and 25th and November 1st at the Piscataway location. The brand is also now available at Bevmax in Long Island and the famed L'Ecole – the International Culinary Center's restaurant in Manhattan. Punzoné also continues to see an increase in online orders from its partners that include Best Wine in NY, City Wine Cellar and World of Liquor.
"Sales of Punzoné continue to flourish, further demonstrating that consumers are looking for a vodka with a high quality of excellence that they can trust. Nothing says luxury like Italian. From food and wine to fashion, cars and now vodka, Italy produces the best," said Frank Guerrera, CEO and Founder of Punzoné. "There is no better time to indulge in all things Italian than in October. So, raise a glass of Punzoné or mix up one of our fresh, easy-to-make cocktails that celebrate our heritage. Saluté!"
Bring some Italian into your day this month with the following Italian inspired drinks from the Punzoné cocktail collection:
Dirty Sicilian Martini
Punzoné Vodka mixed with Punzoné 'Sicilian' Lemoncino, Sicilian green olive juice and garnished with a salt & pepper rim and floating sprig of rosemary;
Punzoné San Marzano
Punzoné Vodka mixed with Punzoné 'Sicilian' Lemoncino, muddled cherry tomatoes, fresh squeezed lemon, and a cherry tomato garnish;
Capri Martini
Punzoné 'Sicilian' Lemoncino mixed with Punzoné Vodka, muddled cucumber, fresh squeezed orange and lemon with Punzoné Agave nectar. Garnished with a cucumber;
Punzoné Ciocco-Latté
Punzoné Vodka, espresso, organic chocolate syrup, organic milk, and a cocoa powder garnish.
Additional and complete recipes are available on http://www.punzone.com/cocktailtype/punzone-cocktails/. These Italian themed cocktails created by New York City's Aurora Bartending School and mixologist Johan Benavides and Anthony Maisonett, previous winner of Top Tender, a leading bartending contest in New Jersey. Cocktail photos are available upon request.
Punzoné, which means 'punch' in Italian, was single handedly brought to market by Frank Guerrera, a New York based Italian-American entrepreneur whose vision to create an all-organic and pure line of Italian vodka was brought to life by his intense passion. Punzoné is distributed by MHW, Ltd. and Allied Beverage Group and is imported directly from Piemonte, Italy's preeminent food and wine geography. All products are USDA Organic and EU Organic certified. Punzoné was launched in July 2012 and is the first organic vodka recipient of the 5-Star Diamond Award by the Academy of Hospitality Sciences.
Punzoné is comprised of three organic beverages:
Punzoné Vodka
Ultra-premium Punzoné Vodka is uniquely handcrafted in a five-column distillation system from Italian wheat grown in Piemonte, Italy. It is precisely blended with pristine water from the Italian Alps to ensure that no unnatural additives taint its unmistakably smooth, velvety consistency resulting in superior organic excellence.
Punzoné Originale
Punzoné 'Blood Orange' Originale is an exquisite fusion of ultra-premium vodka enlivened with organic Sangiovese-grape sangria and natural blood oranges, sourced from the finest organic groves in Calabria. Punzoné Originale is the 'original' Punzoné recipe that has been perfected and handcrafted for decades. It is best consumed on the rocks, shaken and chilled as a martini, or as the perfect ingredient for any cocktail creation.
Punzoné Lemoncino
Punzoné 'Sicilian' Lemoncino is a delicate blend of its ultra-premium vodka refreshed with white sangria from organic Chardonnay grapes grown in the Abruzzo region and natural Sicilian lemons. It is best consumed on the rocks, shaken and chilled as a martini, or as the perfect ingredient for any cocktail creation. Don't confuse it with lemoncello - the taste isn't even comparable!
About Punzoné, Inc.
Based in New York City, Punzoné, Inc. owns, produces and markets a line of products under the name Punzoné. More information can be found at http://www.punzone.com. Punzoné can also be followed on Twitter and Instagram @punzone and Facebook at facebook.com/punzonevodka.