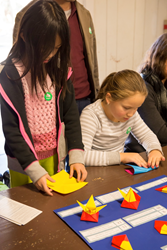 Wilmington, Delaware (PRWEB) October 20, 2014
November and December 2014, January 2015 – Hagley Museum and Library welcomes families to celebrate the holiday season with special programming Thanksgiving weekend and activities daily through January 6, 2015. "Holidays at Hagley" is open Thursday, November 28, 2014, through Tuesday, January 6, 2015. Activities are included in admission prices and are free for members.
Thanksgiving Weekend, November 28 through 30
Bring your family and guests during Thanksgiving weekend for family-friendly and memory-making activities. Discover the taste of traditional foods or try nineteenth-century games with hide-the-thimble and charades in the Gibbons House. Snap a picture of your young ones dressed in nineteenth-century clothing. In the Sunday School, make a Victorian Christmas ornament to add to your holiday decorations and write seasonal greetings with a quill pen.
Holiday Family Adventure Backpacks, November 28 through January 6
Hagley's Family Adventure Backpacks have been revamped for the holiday season. Designed to engage the curious minds of parents and their children, the backpacks are filled with activities such as a holiday hunt, make-your-own New Year's Day calling card, and decorating the Gibbons House on a magnetic board. Backpacks are included with admission and available for checkout at the Visitor Center.
Additional "Holidays at Hagley" Information
"Holidays at Hagley" exhibit features Eleutherian Mills, the first du Pont family home built in America, festively decorated with dried flowers, greenery, fruit, and other natural materials. This year's "Holidays at Hagley" exhibit is inspired by the winter pastimes of the property's former residents. The museum is open 9:30 a.m. to 4:30 p.m. with the first bus leaving for the exhibit at 10 a.m. and the last bus at 3:30 p.m. The holiday display is included in the cost of admission and is free for members.
The Belin House Organic Café will serve an à la carte brunch menu Saturdays and Sundays, November 29, 2014, through January 4, 2015. Menu items are prepared using farm-fresh, locally grown, sustainable and organic products. The Café is open daily, 11 a.m. to 3 p.m. No reservations are necessary.
The Hagley Store is open seven days a week, from 9:30 a.m. to 5:00 p.m. and offers a selection of seasonal gifts and souvenirs, including books, gifts, hand-crafted pieces, and children's items.
About Hagley Museum and Library
The museum is located on Route 141 in Wilmington, Delaware. GPS Address is 201 Hagley Creek Road, Wilmington, Delaware, 19807. Hours are 9:30 a.m. to 4:30 p.m. Admission is $14 for adults, $10 for seniors and students, $5 for children 6 to 14, and free for members and children 5 and under.
At Hagley, we invite people of all ages to investigate and experience the unfolding history of American business, technology, and innovation, and its impact on the world, from our home at the historic DuPont powder yards on the banks of the Brandywine.
For more information, call (302) 658-2400 weekdays or visit http://www.hagley.org.
###