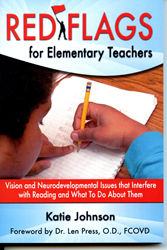 Seattle, WA (PRWEB) October 21, 2014
Children's vision is the one most important factor in their success in school. If children in grades K-6 cannot learn to read and cannot become fluent in reading, they will not be successful in school and will usually have a low self-esteem. Reading is necessary in every area of school, including math. Yet twenty-five percent of elementary students, ages 5-12, have problems with their vision.
Blurred vision, seeing double, having the words bounce on the page as a child is trying to make sense of print -- these events are guaranteed to convince a child that s/he is no good at reading, no good at school, no good. No one at school ever asks, "What are the words doing on the page as you read?" Children do not have an opportunity to share with their grownups that they cannot read because their eyes are not working together as they should.
Katie Johnson does ask these and other questions when she is reading with children, and they tell her. "Well, the words go up slowly and then they go down faster," a third grader might say. "It's kind of hard to keep track of them." Or, "some are very dark and some are very light, and they switch colors," a sixth grader might tell her. "The words come out from the page at me, kind of like a 3D movie," one fourth grade girl told her. "Isn't it like that when you read?"
In Red Flags for Elementary Teachers, Katie Johnson takes us into the fourth, fifth, and sixth grade regular-education classrooms and shows us what the children are seeing; then Red Flags for Elementary Teachers offers exercises and activities for teachers to use with children which may help them to have more success.
All children are screened in school for distance vision. No schoolchildren read at twenty feet away for more than a quarter of their day, if that. Red Flags for Elementary Teachers should be required reading for all elementary teachers, so they can begin to understand what they have been missing and what to do about it.