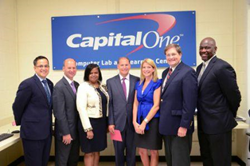 Upper Montclair, NJ (PRWEB) October 29, 2014
New Century announces that it is partnering with the YMCA of East Orange and with Capital One in delivering its Intelligent Tutoring System in an after school program to help students in East Orange close the performance gap.
Jim Griffin, President of New Century, said, "Studies show that urban students from lower income families often under-perform their peers from wealthier suburbs. Ernest Bryant, Director of the YMCA of East Orange, has the vision, determination and the professional staff to supplement work being done in the schools and help students in the community to address this challenge. We at New Century have the perfect intervention to diagnose and deliver highly personalized instruction to fill the learning gaps. We are proud to partner with Ernest and his staff in this endeavor. We are lucky to also have the support of Capital One as a partner to construct and equip such a beautiful learning lab."
According to Ernest Bryant, Executive Director, "Many YMCAs provide after school programs with entertainment, activities, sports and homework assistance, but with New Century we are able to deliver meaningful instruction to diagnose and fill the skill gaps these students need to address before they can succeed."
Stuart Vorcheimer, Senior Vice President Commercial Banking at Capital One Bank in Edison, NJ said, "Capital One was honored to provide a grant to renovate the Learning Lab and purchase new computer equipment at the East Orange YMCA. We are proud to play a part in encouraging student learning and computer competence, which will help make a difference for the students in East Orange."
Students from 4th through 8th grade are scheduled into the lab each day for 45 minutes, alternating between Math and Reading/English Language Arts. The Intelligent Tutoring System assesses students, creates individualized lesson paths, delivers instruction, generates reports and alerts counselors when a student continues to struggle.
"Between the software managing the students 90% of the time and the counselors intervening where they are needed most, it is a powerful combination to keep students moving up," says Griffin.
New Century is a not-for-profit publisher that delivers educational software uniquely designed to help teachers succeed with At-Risk, Special Needs and Adult Students. New Century's Intelligent Tutoring System is scientifically based and research validated.