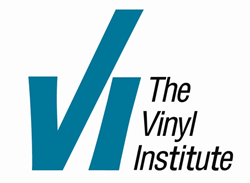 We look forward to sharing our scientific knowledge and building performance experience with USGBC and the Supply Chain Optimization Working Group
Washington DC (PRWEB) October 22, 2014
The Vinyl Institute (VI) today announced that they welcome the opportunity to participate in an initiative previously announced by the U.S. Green Building Council (USGBC) and the American Chemistry Council (ACC) to encourage the use of sustainable and environmentally protective products in buildings. VI has been invited to join USGBC's newly constituted Supply Chain Optimization Group, working with USGBC and others in the industry including chemical suppliers, building product manufacturers, design teams, producers of raw materials, academics and government entities.
This new working relationship acknowledges USGBC's success in leading the transformation of the built environment and takes advantage of the health and environmental life cycle expertise of VI and its members.
"Vinyl is the most researched plastic in the world, and is known for its resource conservation, durability, recyclability and energy efficiency," said Vinyl Institute President, Dick Doyle. "Vinyl products serve a host of applications in the building and construction arena from piping, wiring, windows, flooring, roofing, wall covering and siding, among other applications. We look forward to sharing our scientific knowledge and building performance experience with USGBC and the Supply Chain Optimization Working Group, working together to achieve measurable progress in the green building environment."
"The formation of the Supply Chain Optimization Working Group represents an extraordinary chance to improve communication and collaboration as we work together toward better, healthier buildings and communities," said Rick Fedrizzi, CEO & Founding Chair, U.S. Green Building Council. "The participants in the working group are a true reflection of the inclusive and technical development process that defines LEED and sets it apart."
The group will focus on exploring the desired outcomes and feasibility of the Materials and Resources credit in LEED v4 and proposing additional or alternative approaches if required.
The Working Group will also produce guidelines and implementation guidance for specific credits within the MR credit category. The work of the group is expected to launch its activity in November 2014.
LEED has facilitated advances in building technologies, integrated design and operating practices, as well as the tremendous growth of the green building sector, which supports or creates 7.9 million jobs across all 50 states and contributes $554 billion to the U.S. economy annually.
The VI works on behalf of its members to advance vinyl product applications that benefit society. The vinyl industry in the United States employs over 350,000 highly skilled employees at nearly 3,000 facilities, and generates an economic value of $54.4 billion.