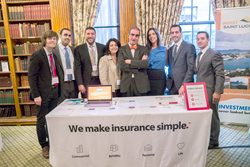 "To improve our world, we must invest in the people around us to secure a future with educated, talented individuals maintaining the wellbeing of others at the forefront." -Michael Sahouri, Vice Present
New York, New York (PRWEB) October 27, 2014
Every year, the Union League Club of New York hosts an international business conference, the 'C3 Summit.' Founded by Ransel Potter, C3 invites founders, executives, and ambassadors from both regions to positively influence collaboration between their respective economies. The three C's of 'C3' symbolize community, collaboration and commerce.
C3 has been sponsored by Google, Microsoft, the National Council on US-Arab Relations, Sahouri Insurance, and many more. The summit has also featured a plethora of influential speakers including the direct grandson of Saudi Arabia's original founder, Prince Abdulaziz Bin Talal Al-Saud, Al-Jazeera America CEO, Ehab Al-Shihabi, as well as former President of the United States, Bill Clinton.
The 2014 summit came at a time of severe economic and political instability in the Middle East, percipitating in a noticeable sense of urgency amongst all participants to make immediate, positive changes to the region's reeling economy. Economic development is what the region needs, and C3 is a business conference designed to achieve that goal.
The conference included 12 business-oriented discussion panels. Fuad Sahouri, CEO of Sahouri Insurance, was invited to address a panel discussing the media's role in shaping perceptions of US-Arab business relations.
Michael Sahouri, Vice President of Sahouri Insurance, gave the closing remarks during the reception. Michael emphasized, "Retaining the knowledge shared today is merely half the solution to bridging our worlds. The other half depends on us partnering together to improve the world we cherish."
As sponsors, exhibitors, and speakers, Sahouri Insurance made a sizeable impression at the conference as a pledge to their commitment in accelerating economic progress between the two regions.
Sahouri Insurance is an independent insurance agency based in McLean, Virginia. Established in 1970, Sahouri is a full service agency providing insurance for international organizations, commercial risk management solutions, employee benefits, life and disability, and real estate insurance. Sahouri has been brokering insurance internationally and domestically with success for 45 years.
For more information, please contact the Sahouri Marketing Department at (703)-883-0500