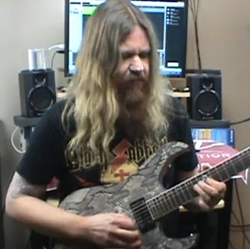 (PRWEB) October 17, 2014
Darrin demonstrates how to connect Ionian and Dorian together in the key of A by ascending the first six notes of Ionian and then shifting up to the next position, Dorian, and ascending the first six notes and then going back to Ionian and simply repeating this sequence six notes at a time for each position, both ascending and descending. Guitar TAB's are available for this lead guitar lesson at GuitarControl.com.
The major scale, aka the Ionian Mode, is a seven tone diatonic scale that is widely used in western music. The eighth duplicates the first at double its frequency so that it is called a higher octave of the same note, which its name is derived from Latin "octavus", the eighth.
Dorian is the second of the seven major modes. The Dorian Mode is composed by playing the major scale and flattening the third and seventh note's by one half steps, or simple sharpen the sixth note of the natural minor scale or Aeolian Mode. The name Dorian comes from the Greek referring to the "Dorian Greeks". Since the Dorian Mode is made up from the major scale with a lowered 3rd and 7th (minor 3rd & 7th), it can be played over minor, minor 7th, and minor 9th chords and is compatible with many major chord progressions and keys. Many modern and classic rock guitarists have used the Dorian Mode in there compositions such as Carlos Santana, Toni Iommi, and Sound Garden to name a few, a notable song based in the Dorian Mode is Scarborough Fair by Simon & Garfunkel.
Darrin Goodman
Darrin Goodman, a native of Ogden Utah, began playing guitar at the age of 12 after hearing KISS at an earlier age. Darrin has been a local finalist for the King of the Blues contest and is the lead guitarist of international recording artist Sonic Prophecy who has performed with artists such as Accept, Sabaton Cinderella and Ratt. Darrin has been teaching private lessons to 30 to 60 students a week from his home studio since 1987.
About GuitarControl.com
GuitarControl.com is the leader in modern guitar instruction. It's packed with recourses including articles, video lessons, and the best videos in the business for the beginner to the advanced guitar student taught by the best instructors out there. Weather you are into the blues, rock, jazz, metal, folk, or anything in between, they have you covered.