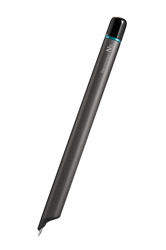 SAN FRANCISCO, CA (PRWEB) October 21, 2014
XMS Penvision is pleased to announce it has signed agreements with NeoLAB Convergence Inc. of Korea in order to complement the growing range of input devices and methods available to its Formidable Digital Writing Platform.
Formidable has become the world's most used digital writing platform supporting some 27,000 users globally across 40 countries. Formidable provides a simple web-based platform that enables the set up, completion and output in digital format of handwritten business forms on either tablets or paper. Formidable's highly accurate handwriting recognition capabilities are powered by industry-leading MyScript technology.
Formidable's compelling business proposition means forms can be written and completed in the field as normal, yet converted to data files and electronic documents for integration to back office applications and document management systems within seconds.
Tarek Ghouri, VP of Sales for XMS Penvision said, "The Neo Smartpen N2 takes digital pen technology to a smarter level by adding features that will enable tighter integration and immediate data validation via iOS and Android tablets and smartphones. Digital writing is evolving, and the Neo Smartpen N2 offers a small, attractive and lightweight form factor at a price point that suits many processes, worker types and emerging markets."
In a separate agreement, NeoLAB Convergence Inc. has become a distributor of Formidable in Asia and will assist in developing key features into the Neo Smartpen N2 required for specific markets and verticals.
Jiwan Park, CSO for NeoLAB Convergence said, "Our Neo Smartpens have already become a success in note taking, and the N2 brings a whole new level of functionality in a sleek slim design. With these important agreements, we are partnering with the global leader in business-oriented data capture based on natural input, allowing us to go to market immediately."
As XMS Penvision's CEO Mats Beijer-Olsen explains, "By complementing our current input offerings, we believe we are providing existing and potential customers more choice and advanced features that will enhance the whole concept of digital writing regardless of business size. We are energized by the marketable solutions these agreements give us and believe it will put both companies at the forefront of digital writing globally."
About XMS Penvision
Established in 1996, XMS Penvision is an innovative Swedish software company specializing in data capture through digital writing. Formidable is marketed through a global network of partners who add value to the platform through a consultative approach with customers seeking a business solution.
Press contact:
Tarek Ghouri, VP Global Sales
Tarek.ghouri (at) penvision (dot) com
Tel: +44 7769 743866
skype: tghouri
http://www.penvision.com
About NeoLAB Convergence Inc.
NeoLAB Convergence Inc. is a Total-Serviceware™ enterprise that creates a new value by converging a variety of technologies, contents and services. Based on award-winning technological prowess, the company supplies ICT products such as smart toys and digital pens to various industries including education and business forms.
Press contact:
Eun Young Chang, Director of PR
themong (at) neolab (dot) kr
Tel: +82 104128 3462
http://www.neolab.kr
http://www.neosmartpen.com
Note to editors:
NeoLAB is attending the World IT Show (WIS) in Korea between October 20-23, 2014 where their N2 pen and Formidable will be demonstrated. The solution will also be demonstrated at the MyScript future.write();™ Digital Writing Conference in San Francisco on October 21-22, 2014.
All trademarks are the property of their respective owners. MyScript is a registered trademark, registered in the US and other countries. IOS is a trademark or registered trademark of Cisco in the U.S. and other countries and is used under license. Android is a trademark of Google Inc.