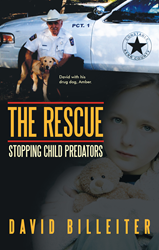 The Rescue is for people who want to read about miracles. I hope it will be an encouragement and bring glory to God.
Nashville, TN (PRWEB) November 11, 2014
CrossBooks is pleased to announce the nationwide release of The Rescue: Stopping Child Predators, a firsthand account from Texas sergeant David Billeiter of his up-close involvement with the harrowing I-10 Predator case that made headlines in 2001. Since featured in People and on television's FBI: Criminal Pursuit, the story's happy ending—a child found alive in the nick of time—is viewed by Billeiter as a miracle of God's providence.
In May 2001, 11-year-old Leah Henry was taken near her home in Houston, lured into a car that matched the description of one associated with two other abductions. She was held captive for days by 48-year-old Gary Dale Cox, a convicted sex offender who would be outwitted by the daring young girl when she escaped during a traffic stop into the safety of Billeiter's arms. Interestingly, the lawman says he knew the case would be solved that day.
"God impressed upon me that I would very soon encounter a desperate serial kidnapper," said Billeiter, a Southern Baptist minister for twenty years prior to his career in law enforcement. "When I left for work the morning of May 4 I told my wife, 'I'm going to get the predator today.'"
Paul Mikos, publisher at CrossBooks for LifeWay Christian Resources, said, "We're honored to help bring Sergeant Billeiter's amazing story to readers everywhere. His personal narrative gives an insider's look at the headline-making experiences of that time but just as importantly reveals the hand of God in the takedown of an evil man and the rescue of an innocent child."
Billeiter adds, "We hear all too frequently of child abductions, but The Rescue is for people who want to read about miracles. I hope it will be an encouragement and bring glory to God."
The Rescue is available online and in stores via CrossBooks.
An imprint of B&H Publishing Group, CrossBooks offers a unique blend of traditional and self publishing. It serves a variety of Christian writers, from established authors to Christian leaders and first-time authors. As a ministry of LifeWay Christian Resources, CrossBooks is committed to unwavering principles of excellence and Christian faith. For additional information, please visit http://www.crossbooks.com.