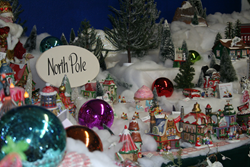 Our customers will see the store full of garland and new décor just in time for the holidays, said owner Deb Cockrell.
Shreveport, LA (PRWEB) October 20, 2014
For the 2014 Christmas season, holiday shoppers at The Enchanted Garden, located at 2429 Line Ave. in Shreveport, will see a holiday makeover, thanks to Poo-Pourri, the award-winning toilet bowl sanitizer and bathroom deodorizer. The Shreveport business was chosen out of more than 2,000 contest entries across the United States by Poo-Pourri. They were handpicked by the company for the $10,000 grand prize holiday makeover, which will debut Oct. 17.
"We were shocked," owner Deb Cockrell said of the announcement. "Our customers will see the store full of garland and new décor just in time for the holidays." Christmas shoppers can expect to be dazzled by the new décor and change from the norm.
Cockrell sees The Enchanted Garden as a connector for the community. "We should have named the shop Your Happy Place," said Cockrell. "This is a place where people connect." This home-turned-gift shop is filled to the rafters with jewelry, home décor, clothing, cooking items, and a year-round collection of Department 56 Christmas décor. Popular Department 56 offerings include holiday trains, lights, ornaments, porcelain Christmas homes, and dozens of Santa fairies.
Cockrell typically does not enter contests, but she took a chance by entering the nationwide Poo-Pourri promotion this past summer. As a result, Poo-Pourri brought in Dallas interior designer Harold Hand, who has been working in holiday home displays in the Highland District of Dallas, Texas for more than 20 years to makeover The Enchanted Garden. The makeover focused on the Department 56 room that is Christmas themed all year long. Cockrell wants customers to see the Department 56 room as a model for decorating their homes.
Visitors can see the updated store Oct. 17 through the New Year. Those who can't visit during the holidays can check out the Christmas makeover all year long in the Department 56 room.
For more information about the holiday makeover or The Enchanted Garden, call (318) 227-1213 or visit http://www.enchantedgarden.com.