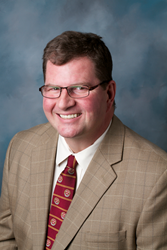 Chester, NJ (PRWEB) October 17, 2014
October is Dental Hygiene Month, and Dr. Thomas Bissell is taking the opportunity to remind patients of the importance of protecting their periodontal health with appropriate dental care in Chester, NJ. Dr. Bissell offers his patients an alternative to traditional gum surgery with the LANAP® protocol, which is a minimally invasive laser gum disease treatment. This procedure effectively treats periodontal disease while preserving healthy tissue and reducing side effects, such as discomfort and bleeding.
Dr. Bissell reminds patients that failure to seek periodontal disease treatment can lead to various health consequences. Gum disease causes gum recession, which can leave teeth exposed to other dangers. Advanced gum disease, or periodontitis, causes damage to the bone that supports the teeth. Eventually, affected teeth may become mobile and require extraction. In addition to these issues, people with periodontal disease may face a higher risk of systemic health problems, including heart disease, pancreatic cancer, and stroke, according to ongoing research. Fortunately, patients who pursue dental care in Chester, NJ early enough may be able to avoid such outcomes.
During the LANAP® protocol, Dr. Bissell uses the PerioLase® MVP-7™ laser to exclusively treat gum disease while leaving healthy gum tissue intact. Dr. Bissell does not have to make any cuts or place any sutures throughout the procedure. Patients typically experience little pain or bleeding, and many people resume their usual activities within a day of receiving treatment. The risk of complications such as infections is low, since the laser has a sterilizing effect on the treated gum tissue. Additionally, the LANAP® protocol can reduce the odds of patients losing their natural teeth. The PerioLase® MVP-7™ promotes regeneration in the alveolar bone, which supports the teeth; this makes it easier for affected teeth to attach more securely to the bone, reducing the risk of tooth loss. No other FDA cleared gum disease treatment produces this same result.
Dr. Bissell reminds patients to be alert to signs that they may need dental care in Chester, NJ. Bleeding, inflammation, recession, and tenderness of the gums often accompany periodontal disease. People who are experiencing these symptoms are advised to call Dr. Bissell's office or visit his website to schedule a consultation for periodontal disease treatment.
About the Practice
Bissell Periodontics and Dental Implants Center of New Jersey is a periodontal practice offering personalized dental care for patients in Chester, NJ. Dr. Bissell received his Doctor of Medical Sciences Degree at Harvard Medical School and his Postdoctoral Certificate of Periodontology at the Harvard School of Dental Medicine. He belongs to the one percent of dental professionals currently providing the LANAP® protocol, the first FDA-cleared laser procedure for gum disease and periodontal treatment. To learn more about Bissell Periodontics and Dental Implants Center of New Jersey, visit their website at http://www.drbissell.com and call 908-955-5999.