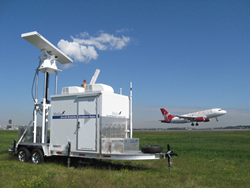 Panama City, Florida (PRWEB) October 17, 2014
DeTect, Inc. (http://www.detect-inc.com) today announced that through a partnership with a major national leasing firm DeTect can offer competitive operating lease and lease-purchase financing to US airports for its MERLIN Aircraft Birdstrike Avoidance Radar system that includes the system, delivery, installation, operational integration and operations and maintenance.
"This is a great opportunity for US airports of all sizes to obtain an avian radar to help reducebird-aircraft strikes, improve flight safety and reduce aircraft damage and delay costs," said DeTect's President, Ron L. Merritt. "MERLIN provides continuous detection, tracking and warning of hazardous bird activity in real time, in support of the airport's existing safety management programs."
DeTect's MERLIN Aircraft Birdstrike Avoidance Radar system is the most advanced and widely-used technology available for bird-aircraft strike hazard (BASH) management. Since 2003, MERLIN systems have been providing real-time birdstrike advisories to air traffic controllers, flight safety managers and pilots at commercial airports in Europe and Africa and for the US Air Force and Navy airfields and ranges. NASA also used two MERLIN systems to support the final 22 space shuttle launches from 2006 through 2012.
About DeTect
DeTect is a fully integrated radar company headquartered in Panama City, Florida, USA with radar manufacturing facilities in Florida and Colorado and additional offices in Arlington, Virginia; Montreal, Canada; and, London, England. Other DeTect radar products include HARRIER™ Security and Surveillance radars and RAPTOR™ Radar Wind Profilers.