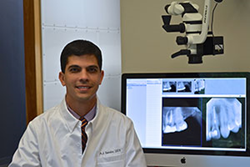 Jacksonville, FL (PRWEB) October 17, 2014
Dr. Allan Sandor celebrates Dental Hygiene Month in October with increased emphasis on education and intervention related to the painful subject of tooth sensitivity that his Jacksonville, FL patients suffer from. As a specially trained endodontic specialist, Dr. Sandor has advanced skills and techniques involving root canal procedures for the most rapid and efficient solutions to problems of injured or damaged teeth.
Dr. Sandor first consults with the patient, assesses the state of oral health, and discusses treatment options for those who suffer from tooth sensitivity in Jacksonville, FL. Because Dr. Sandor is specially trained in root canal procedures he is able to use advanced modern methods to save teeth and avoid the expense of implants or invasive procedures.
Sensitivity in the teeth, whether to heat, cold, or just the normal pressures of chewing, is usually a sign of serious problems developing in the interior of the teeth. In the very interior of the tooth are channels for nerves and blood. Once decay or damage has reached the inner pulp of the tooth, a patient experiences pain. In many cases root canal treatment can save the natural tooth, but if the damage has progressed too far, the tooth will have to be removed.
Many people have known the pain and fear of a cracked tooth, a fractured cusp, or a split tooth. Most people know right away when they experience a serious dental crisis that immediate specialized dental care is a must. Because Dr. Sandor is an endodontist he is specially trained and expertly skilled in advanced techniques to save injured and decayed teeth.
As a published expert on the art of endodontic care, Dr. Sandor excels in his field with caring and thorough treatment. The small and sensitive inner channels of the tooth require special attention to avoid nerve pain and progressive problems with decay or deterioration. Dr. Sandor provides endodontic services to help patients save their natural teeth and enjoy good oral health without implants or extractions in most cases.
Learn more about the signs and symptoms of tooth sensitivity in Jacksonville, FL on the web at http://www.endodontistjacksonville.com. Call (904) 302-9812 for more information about modern treatment options and advanced root canal methods that can restore oral health quickly and effectively.
About the Doctor
Sandor Endodontics is an endodontic practice offering patients modern treatment in performing root canals to save teeth in Jacksonville, FL. Dr. Allan Sandor completed his undergraduate studies at the University of Florida and received his dental degree from Marquette University, College of Dentistry in Milwaukee, WI. He was a dental officer in the United States Navy and completed a one year Advanced Education in General Dentistry at the Marine Corps Recruit Depot on Paris Island, SC. He was selected within the Navy for training in Endodontics and received his certificate from the University of Iowa, College of Dentistry. To learn more about Dr. Sandor, a published endodontist, visit his website at http://www.endodontistjacksonville.com and call (904) 302-9812.