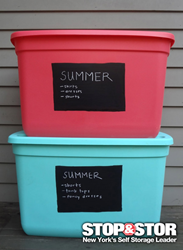 (PRWEB) October 17, 2014
Whether you're ready for it or not, the weather is getting colder, and with the changing seasons comes a new wardrobe. It's time to make room for sweaters, coats and other cold-weather gear in the closet. Store swimsuits and sandals properly now and they'll be ready to wear next summer.
Prepare a storage spot before putting in summer clothes. Thoroughly clean out empty drawers, storage bins or closet. If it's a closet, make sure the floor is vacuumed and the shelves are dusted. If there is mold or mildew lurking in the storage space, try an eco-friendly cleaning product, if possible to take care of it.
Wash storage containers. If storing summer clothes in fabric storage bags, run them through the washing machine to remove dust and mold spores. If the containers or bags are plastic, clean them thoroughly with a disinfectant cleaner. Let them dry completely to keep mold and mildew from growing when the container is sealed tight.
If using plastic containers to store clothes, line the container with a cotton sheet to keep fragile clothing items from touching the plastic container. It's best to store the clothes in airtight plastic because pests and moisture can't get in, but if that isn't possible, any plastic container will do.
Sort clothes before storing them. Make sure all of the clothes are clean before storing them. Small dirt flecks can turn into permanent stains if they're left unlaundered! Note: Don't use starch on shirts because the starch will attract insects.
To keep moths away and keep clothes smelling fresh, add a small breathable bag (like a cotton bag) of dried lavender to the storage containers or drawers. The smell of lavender repels moths and will keep clothes smelling fresh.
Store clothing in a cool, well-ventilated area. It's best if the clothes are stored away from natural light. Note: Avoid basements and attics unless in a very dry climate. The added moisture in these areas will make the storage containers a mold paradise.