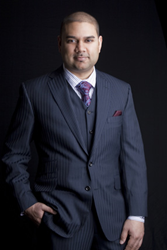 Powell, OH (PRWEB) October 17, 2014
Patients seeking a way to replace missing teeth in Powell, OH can turn to Dr. Neal Patel of Infinite Smiles, as he is now accepting new patients to his practice. Those who are considering dental implants as a practical and long term solution for their missing teeth may receive an informative consultation at no charge. As a dentist in Powell, OH, Dr. Patel is an internationally recognized authority and educator on the use of cutting-edge dental technology for precision dental implant placement. According to the doctor, there are many benefits to undergoing implant dentistry procedures, including advantages from both a practical standpoint and an aesthetic standpoint.
Dental implants are known to be very versatile, as they can be used to permanently replace one or more missing teeth, or to provide stable support for dentures or bridges. The dental implants offered by this dentist in Powell, OH are able to function in the exact same way as natural teeth and do not require any specialized care. The implants do not become loose and are not prone to slipping, as they are firmly secured to and integrated with the jaw bone.
The issue of missing teeth is extremely common in the United States. Recent studies show 69 percent of American adults between the ages of 35 and 44 have lost at least one permanent tooth. These numbers increase with age. In fact, 26 percent of adults over the age of 74 have lost all of their permanent teeth. Due to the prevalence of tooth loss, it is important to know that living with missing teeth, even just one, is known to cause jawbone recession, collapsed facial structure, and in turn, even premature facial wrinkles.
Patients with missing teeth who are in need of a dentist in Powell, OH can contact Dr. Patel's office at Infinite Smiles to schedule a complimentary consultation, which will determine candidacy, oral health needs and options, estimated cost and insurance coverage. This includes patients who are interested in dental implants or any other dental service provided by Dr. Patel at Infinite Smiles.
About the Doctor
Infinite Smiles is a general practice in Powell, OH, providing personalized dental care through the use of the highest level of dental technology. Dr. Neal Patel received his Bachelor's degree in molecular genetics and his DDS from The Ohio State University. He is a member of the American Dental Association, the American Academy of Cosmetic Dentistry, and the American Academy of Craniofacial Pain, among many others. Widely published, he has been featured in Forbes, Newsweek, The Wall Street Journal and is a best-selling author. He has received numerous customer and peer review honors, including Columbus, Ohio Top Dentist and is an Angie's List Super Service Award winner for consistent customer satisfaction. To learn more about Infinite Smiles and the services Dr. Patel offers, visit his website at infinitesmiles.com or call (740) 881-2600.