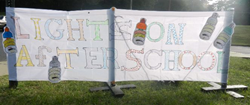 Charlotte, NC (PRWEB) October 17, 2014
For working parents who do not have access to quality afterschool care for their children, the hours that stretch between the ringing of the day's last school bell, and the time they return home from work, can be a source of anxiety. Research reveals that during these unsupervised weekday afternoons, children are at risk to engage in or become victims of crime, experiment with drugs and alcohol or participate in activities that could derail their academic success and life potential.
On Thursday, October 23 the YMCA of Greater Charlotte will host Lights On Afterschool events at select branches to celebrate student achievement and draw attention to the need for more afterschool programs. In an open house setting, the Y's Lights On Afterschool events will welcome and encourage parents to engage with program directors, learn about student projects and tour the facilities.
Lights On Afterschool is an annual, nationwide campaign sponsored by the Afterschool Alliance, a nonprofit organization dedicated to ensuring that all children have access to affordable, quality afterschool programs. Launched in October 2000, it is the only nationwide celebration of afterschool programs, in recognition of its importance in the lives of children, families and communities.
According to the United States Department of Education's 21st Century Community Learning Centers Initiative, in the state of North Carolina there are 472,169 students, spanning grades K through 12, that are unsupervised and at risk outside of school. Conversely, research shows that students who regularly participate in quality afterschool programs demonstrate significant improvements in classroom behavior and enhance their academic performance.
As a leading nonprofit serving the community for 140 years, the Y is dedicated to healthy youth development. With 12 program sites across its 19 branch locations, including a new site serving Lincoln County launched last fall, the YMCA of Greater Charlotte provides one of the most comprehensive afterschool networks in the region, offering academic, sports and art programs. "The Y's afterschool programs provide children with supervised activities that encourage learning and social interaction in a safe environment, setting them on a path of academic success and lifelong learning," says Liz Godwin, Director of Youth Programs for the YMCA of Greater Charlotte. "The Y is proud to serve working families by providing fun, safe and enriching environments where children and teens can reach their greatest potential."
The YMCA of Greater Charlotte will add a new curriculum called "AfterSchool KidzLit" to its regular afterschool program at four YMCA locations including the McCrorey, Stratford Richardson, Simmons and Johnston YMCAs. AfterSchool KidzLit is a reading enrichment program designed specifically for use in out-of-school settings. It increases young people's motivation to read and builds their literacy skills. At the same time, it develops core values of helpfulness, fairness, personal responsibility, and respect for others.
Along with its many other youth development initiatives, including Y Readers, a nationally renowned literacy program, and Y Achievers, a college and career readiness program, the Y's afterschool program helps youths develop lifelong skills, promotes academic success and builds self-reliance.
To learn more about the Y's Lights On Afterschool events or to inquire about their afterschool program, please contact Liz Godwin, Director of Youth Programs, at (704) 716-6280.
###
About the YMCA of Greater Charlotte
The Y is one of the nation's leading nonprofits strengthening communities through youth development, healthy living and social responsibility. The YMCA of Greater Charlotte, comprised of 19 Y branches and two resident camps, engages approximately 292,000 men, women and children – regardless of age, income or background – to nurture the potential of children and teens, improve the nation's health and well-being, and provide opportunities to give back and support neighbors. Deeply rooted in the community for 140 years, the YMCA of Greater Charlotte has the long-standing relationships and physical presence not just to promise, but to deliver, lasting personal and social change. ymcacharlotte.org.