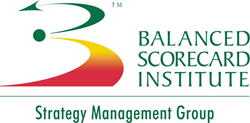 Cary, NC (PRWEB) October 20, 2014
Gail Stout Perry, Chief Strategy Officer at the Balanced Scorecard Institute (BSI), will present an informative session featuring a countdown of the top 8 reasons scorecards fail at the Association for Strategic Planning Meeting held on October 23, 2014 at the Prestonwood Country Club in Dallas, Texas. The presentation will be based on true stories and will include a discussion of root causes as well as methods for preventing or overcoming challenges in various organizations.
Participants will discover:

The top 8 reasons strategic management systems fail
How to detect whether they're on a path to failure or success
What practices can be implemented to either course-correct or avoid the problems altogether
Gail has over 25 years of strategic planning and performance management experience and is passionate about helping organizations improve their performance. Her clients range from Fluor Corporation, ADP, and Mary Kay Inc. to the U.S. Navy, U.S. Air Force, Secretary of Defense, Federal Government of Botswana, Town of Westlake, and City of Edmonton. She is also the co-author of The Institute Way: Simplify Strategic Planning & Management with the Balanced Scorecard. Gail was recently interviewed in a segment that aired on Bloomberg TV and is a popular blogger and speaker.
To register for the event click here: http://www.eventling.com/index.php?file=event_details&companyId=7&event_id=900
About ASP:
Founded in 1999, ASP is the only not-for-profit professional association dedicated to advancing thought and practice in strategy development and deployment for business, non-profit and government organizations. ASP provides opportunities to explore cutting-edge strategic planning principles and practices that enhance organizational success and advance members' and organizations' knowledge, capability, capacity for innovation, and professionalism.
About the Balanced Scorecard Institute:
The Balanced Scorecard Institute, a Strategy Management Group Company, provides strategic planning, balanced scorecard and performance measurement and management training, certification, and consulting services to government, nonprofit, and commercial organizations. Services include public and on-site courses, facilitation and consulting services, and information and tools used by executives, managers and analysts to transform their organizations into "performance excellence" organizations.
The Institute's website-- http://www.balancedscorecard.org --is a leading resource for information, ideas and best practices on strategic planning and management, performance measurement, and balanced scorecard systems. The Institute's Nine Steps to Success™ balanced scorecard framework integrates strategic planning, budgeting, operational planning, performance measurement and strategy execution into a disciplined framework for helping organizations achieve higher levels of performance.