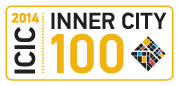 Chicago, IL (PRWEB) October 20, 2014
The Initiative for a Competitive Inner City (ICIC) and FORTUNE announced that Gorilla Group was selected for the 2014 Inner City 100, a list of the fastest-growing inner city businesses in the U.S. Now in its 16th year, Inner City 100 winners are ranked according to revenue growth against their industry peers, as well as overall. This is Gorilla Group's 3rd consecutive appearance on the Inner City 100.
"To be ranked among the top 10 fastest-growing inner city businesses in the U.S. is a tremendous accomplishment, and a direct result of the incredible work and dedication of our entire team, " said Brian Grady, CEO of Gorilla Group.
Gorilla Group ranked 8th overall on the list of 100 and 3rd in the highly competitive Software & Information Technology industry category. The Inner City 100 program recognizes successful inner city businesses and their CEOs as role models for entrepreneurship, innovative business practices and job creation in America's urban communities. Gorilla Group, an award-winning full-service Commerce Services Provider, reported a gross growth rate of 794 percent over the last 5 years. The full list of winners can be viewed at Fortune.com
The rankings for each company were announced at the Inner City 100 Awards on Thursday, October 16, 2014 in Boston, Massachusetts. Preceding the Awards celebration, winners attended a two-day small business Symposium designed exclusively for urban firms, featuring business management case studies presented by Harvard Business School professors and peer-to-peer learning sessions.
The 2014 Inner City 100 winners represent 53 cities and 23 states. The winners grew at an average compound annual growth rate of 39 percent and an average gross growth rate of 336 percent between 2009 and 2013.
"It's important to recognize businesses like Gorilla Group that are truly driving economic growth and job creation and America's urban cores," said Matt Camp, President, ICIC.
Gorilla Group would like to thank all our clients, partners, and the entire Gorilla team for making this recognition possible, and would like to especially thank World Business Chicago for originally nominating us for this prestigious award.
About Gorilla Group: Combining award-winning website design, development, strategy, post-launch managed services and hosting, Gorilla delivers innovative ecommerce solutions to B2B and direct-to-consumer brands across industries. Headquartered in Chicago, Gorilla has unmatched expertise creating unique, functional shopping experiences that connect brands with their customers, producing better ROI through the digital channel. That's why Gorilla Group is a Smarter Species of Commerce.
About Initiative for a Competitive Inner City (ICIC): ICIC is a national nonprofit founded in 1994 by Harvard Business School professor Michael E. Porter. ICIC's mission is to promote economic prosperity in America's inner cities through private sector investment that leads to jobs, income and wealth creation for local residents. Through its research on inner city economies, ICIC provides businesses, governments and investors with the most comprehensive and actionable information in the field about urban market opportunities. The organization supports urban businesses through the Inner City 100, Inner City Capital Connections and the Goldman Sachs 10,000 Small Businesses programs. Learn more at http://www.icic.org