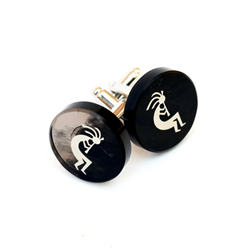 Yerevan, Armenia (PRWEB) October 17, 2014
Galleria Central is excited to announce that it now has Kokopelli cufflinks available for sale on Etsy. The cufflinks are handcrafted from obsidian with damask printing for the design. They feature an old American tribal sign (Kokopelli), which gives them a distinctive appearance. Kokopelli is a fertility deity, who is usually portrayed as a slightly humpbacked flute player. Kokopelli also represents the spirit of music. Interested shoppers can view the cufflinks at https://www.etsy.com/listing/203244789/kokopelli-cufflinks-made-from-obsidian?ref=shop_home_active_8.
"We craft handmade items for the lover of fine things. Each of our cufflink sets is designed by hand, offering an exclusive appearance," stated Mr. Ghazaryan. He also has this thought to share: "Each of our artistic cufflink sets allows our customers to own a beautiful piece of jewelry that is uniquely their own."
The shop also welcomes custom orders from customers who like the gorgeous styling of the cufflinks but who would prefer a different design. Hours are put into the creation of each set of cufflinks, using a laborious process to print the design onto the obsidian stone.
This online shop has an attractive assortment of handmade, one-of-a-kind items that it is offering for sale, including several styles of cufflinks, each of which features a different symbol. For a complete listing of all of the handmade gifts currently available through Galleria Central, please visit their shop at: https://www.etsy.com/shop/galleriacentral.
Orders can be shipped internationally as well as to the United States. If customers prefer not to use standard shipping, express shipping through FedEx, EMS, and DHL is available.
Galleria Central is owned by Mr. Ghazaryan. The shop specializes in selling handmade gifts for men and women, including cufflinks, necklaces, small statues, pipe stands, and wooden docking stations. Galleria Central is based in Yerevan, Armenia and is actively selling its items on Etsy.