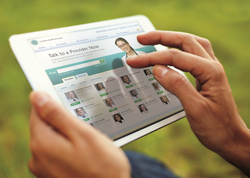 Carolinas HealthCare System Virtual Visit takes convenience to the next level. People have busy lives, and Virtual Visit offers 24/7 medical care, when and where it's needed.
Charlotte, NC (PRWEB) October 21, 2014
Patients can now take advantage of medical care that's as accessible and convenient as clicking a button – available right where they are, with no appointment needed. Carolinas HealthCare System now offers Virtual Visit, which provides live, immediate access to a medical provider via a camera-enabled smartphone, tablet or computer 24 hours a day, seven days a week.
"Virtual Visit takes convenience to the next level. People have busy lives, and they are looking for providers to make high-quality care available when and where it's needed. Whether it happens in a person's workplace on a Monday morning, or their home in the middle of the night, Virtual Visit makes 24/7 access to medical care an exciting reality," said Roger Ray, MD, executive vice president and chief physician executive of Carolinas HealthCare System. "Even better, our virtual visits are fully integrated with our System. Each visit is added to a patient's electronic medical record for seamless connection to follow-up care."
Virtual Visit addresses a range of conditions, including:

seasonal allergies, bronchitis and flu
cold, cough, sinus and upper respiratory infections
conjunctivitis or pink eye
skin conditions
In addition to an evaluation by a Carolinas HealthCare System provider, patients can receive medical prescriptions and referrals for follow-up care if appropriate. The cost for each virtual visit is $49, and no insurance information is required or shared.
Virtual Visit is available to patients with an established Carolinas HealthCare System primary care provider, and who are physically located in North Carolina at the time of care. Patients may access the virtual visit at CarolinasHealthCare.org/VirtualVisit, or download the free mobile app from their device's mobile app store by searching for Carolinas HealthCare Virtual Visit.
Virtual Visit is the latest way to access Carolinas HealthCare System's comprehensive care offerings, joining its network of primary and urgent care locations, specialty care offices, satellite emergency departments and hospitals.
About Carolinas HealthCare System
Carolinas HealthCare System, one of the nation's leading and most innovative healthcare organizations, provides a full spectrum of healthcare and wellness programs throughout North and South Carolina. Its diverse network of care locations includes academic medical centers, hospitals, satellite emergency departments, physician practices, surgical and rehabilitation centers, home health agencies, nursing homes and behavioral health centers, as well as hospice and palliative care services. Carolinas HealthCare System works to enhance the overall health and wellbeing of its communities through high quality patient care, education and research programs, and numerous collaborative partnerships and initiatives.