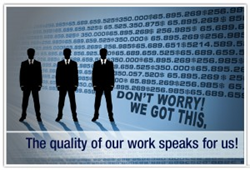 las Vegas, Nevada (PRWEB) October 17, 2014
The owners of iQTAXX are excited to be able to offer first-time clients a chance to get a $50 discount off the price of their tax-preparation services, simply by downloading an online coupon provided by IQTAXX. The company encourages clients claiming the coupon to share the link on their social media pages in order to have a chance to receive free tax preparation through the company's new referral program.
The income tax preparation company is running the program from now until December 31, 2014, giving interested individuals plenty of time to claim their discount and hopefully earn a free tax preparation. A representative of IQTAXX has this to say, "We value our clients, and so, we thought that we would show our appreciation through this opportunity to receive discounted tax preparation. Even if customers don't earn a free tax return, they still save money on their fees."
In order to qualify for a free tax return, clients must be able to meet the following qualifications. They must claim and use a one-time coupon of $50 off the cost to file a prepared tax form. Next, they must share the coupon with friends and followers on their social networking sites. After they collect three referrals, each of which must follow through and use their $50 tax-preparation coupon, the first individual earns a free tax return.
Each client claiming a $50 tax-preparation coupon is automatically entered into a drawing to win their choice of a $500 check or an iPad as a prize. The $50 coupon can be accessed from the company's website (iqtaxx.com) as well as from its Facebook page (IQTAXX).
A full-service tax preparation and accounting company, IQTAXX provides services to businesses and residents of Las Vegas, Nevada. In addition to tax preparation, the company handles book balancing, payroll, and accounting matters. Access to an informative, education-driven website is offered to anyone who wishes to learn more about tax preparation.
IQTAXX
Las Vegas Tax Professionals
6620 West Flamingo Road
Suite 3
Las Vegas, NV 89103
702.871.7884
702.933.3127 (Fax)
Iqtaxx.com
###