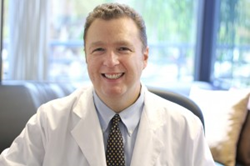 The potential to expand patients' options with new laser eye surgery techniques in the near future is very exciting.
San Diego, CA (PRWEB) October 21, 2014
With the development of KAMRA, an intra-corneal inlay designed specifically to treat presbyopia, California-based company AcuFocus is making it possible for older adults suffering from age-related loss of near vision to shed their glasses and contact lenses for good.
"KAMRA has the potential to be the next big thing in vision correction technology," says Dr. Michael Tracy, a Carlsbad LASIK surgeon and ophthalmologist.
Using the depth of focus principle from photography, AcuFocus has designed the KAMRA inlay, which allows the eye to see close objects with unprecedented clarity. Moreover, the inlay doesn't negatively affect long-distance vision, allowing for patients to enjoy crisp and clear vision from any distance. Depth of focus allows the KAMRA inlay to control light transmission so that only central rays reach the retina.
Using what's known as an aperture, which is a small opening for light to pass through, AcuFocus has created an inlay that can make up for the eye's loss of the natural ability to focus light into a finite point on the retina over time, which leads to blurred vision as individuals age.
"The AcuFocus corneal inlay basically acts like a powerful camera, and this new technology opens up many doors in terms of treatment options," says Dr. Tracy. "The potential to expand patients' options with new laser eye surgery techniques in the near future is very exciting."
Like LASIK, the implantation procedure for KAMRA uses a femtosecond laser. During the surgery, this laser creates a small pocket in the cornea for the device. KAMRA does not alter the shape of the cornea, but patients can undergo LASIK or PRK and then have the KAMRA corneal inlay implanted as well. It is an outpatient procedure that generally takes about 15 - 20 minutes.
Traditionally, vision correction options for treating presbyopia have been limited to glasses and contact lenses. Established laser eye surgery procedures like LASIK and PRK are typically used to treat astigmatism, myopia and hyperopia. However, LASIK and PRK are not ideal in treating presbyopia, except for those patients who can tolerate monovision treatments.
Approved for use in Europe in 2005, early clinical trials for KAMRA were conducted in Mexico, Brazil, and Turkey, and the procedure is commercially available in 50 countries to date. Clinical trials for FDA approval for commercial use in the United States began in 2009 and are currently underway. This new technology is expected to receive FDA approval within the next few years.
Dr. Michael Tracy is a board-certified ophthalmologist. He completed his residency training in ophthalmology at the Scheie Eye Institute at the University of Pennsylvania. After completing a fellowship in Corneal and Refractive Surgery at the Bascom Palmer Eye Institute, Dr. Tracy served as a medical director at TLC Laser Eye Centers. Dr. Tracy specializes in LASIK and PRK surgery at his private practice at Carlsbad Eye Care.
To contact Carlsbad Eye Care, please visit http://carlsbad-eye-care.com/ or call (760) 603-9910.