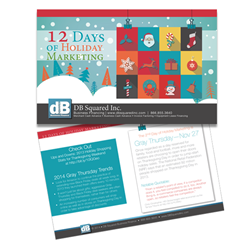 With more consumers saying they will shop online this year than ever before, brick and mortar retailers need to find new ways to attract local holiday shoppers. - Elizabeth Kraus
Seattle, Washington (PRWEB) October 17, 2014
DB Squared has just announced the release of an eBook titled, 12 Days of Holiday Marketing, which details twelve unique holiday observances that provide opportunities for small business owners to attract shoppers during the upcoming holiday season. Citing both a weak retail forecast as well as a significant drop in Nov-Dec 2013 in-store foot traffic, the eBook seeks to highlight specific themes retailers can use to attract local shoppers during November and December.
Those who would like to download 12 Days of Holiday Marketing can do so free of charge by subscribing to DB Squared email updates. Marketing manager Elizabeth Kraus points out that even though experts are forecasting a modest year over year gain for holiday retail sales, Main Street retailers may find it challenging to compete with online retailers for the consumer's holiday shopping dollars.
"In January, the Wall Street Journal published a ShopperTrak/CoStar Group report which revealed a big drop in retail foot traffic for November and December 2013," Kraus explained. "It points to a big discrepancy in the retail arena, where gains overall might not translate into business growth for local retailers and small businesses. Compared to a count of nearly 35 billion consumers visiting brick and mortar locations in 2010, in November-December 2013 this number was only 17.6 billion consumers; that's a drop of 50% in just 3 years."
The 50% drop referenced by Kraus does not seem to be a one year anomaly as it was precipitated by drops in retail foot traffic in both 2011 and 2012. Whether the downward trend continues as more shoppers embrace the convenience of online shopping may depend on whether retailers can effectively reach local holiday shoppers and entice them back into stores to shop.
In their new eBook, 12 Days of Holiday Marketing, DB Squared puts the spotlight on twelve unique themes that a small business can deploy in order to attract local holiday shoppers beginning with Halloween through to New Year's Eve. Kraus hopes that retailers will begin to view the holiday season as bigger than Black Friday and the Thanksgiving weekend, and that viewing the Halloween-to-New Year season as a connected whole will help them build momentum with local holiday shoppers.
"Local retailers need to go further than sending out a couple of holiday flyers and use social networks and email marketing to engage their readers prior to the onset of and throughout the holiday season. In effect, they need to give local shoppers a reason to make visiting their business a part of their holiday shopping rituals."
Those interested in obtaining the download can do so here or via the company's Facebook page, located at http://www.Facebook.com/dbbusinessfinance.
***
Founded in 2009 and headquartered in Seattle, Washington, DB Squared is a wholly-owned subsidiary of a 30 year old private consumer finance company specializing in business cash advance financing and receivables financing (or invoice factoring). For more information, visit DBSquaredInc.com.