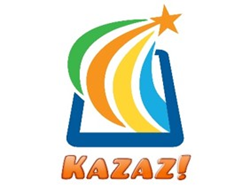 Kazaz! combines sight, sound and touch to offer the kind of immersive learning experience parents want for their kids.
COLUMBIA, MD (PRWEB) October 20, 2014
Kazaz! is story time reimagined.
American Story Channel today announced the launch of Kazaz!, an exciting new app featuring a world of interactive, animated original stories. Kazaz! goes above and beyond the typical app design. It uniquely combines a series of discoverable learning gems and real-world 3D printed figures to create an enhanced, multi-sensory learning experience for children ages 3 to 8. With Kazaz!, kids don't just read a story, they experience it!
Available for iPad, the Kazaz! app can be downloaded at no cost and comes with three stories at launch:
The Magic of Kazaz: A free story that reveals how Kazaz! became a magical planet.
I Am the Music Man: Sing along with the Music Man in this hand-clapping, toe-tapping rendition of a classic children's melody. Free with the Kazaz! app download through October 26th, $1.99 thereafter.
The Story of Wooding: The tale of an adventurous young swan who sets off on an exciting journey. Free with the Kazaz! app download through October 26th, $2.99 thereafter.
Gems Make Kazaz! More Precious
Kazaz! encourages children not only to read, but to immerse themselves in learning by clicking on gems hidden throughout the app, just waiting to be discovered by the curious reader. These gems activate intriguing pop-ups that share additional information related to the story topic, potentially expanding a 10-minute read into a highly engaging learning experience that lasts for an hour or more!
In The Story of Wooding, whose central character is a swan, a series of gems offer interesting facts about swans and their habits. Children learn, for example, that a female swan is called a pen, and the name for the writing instrument we use today was derived from a time when people wrote with quill feathers. Other story gems enable children to win prizes for imagining and submitting new endings.
The number of gems and their timing are based on a cycle of interaction so that the story evolves and becomes more engaging, adding to a child's enjoyment each time he or she experiences it. There are no gems in the initial reading, allowing youngsters to first enjoy the story as it was originally written. Afterwards, gems are revealed a few at time with each subsequent reading, to encourage repeated interaction.
Kazaz! offers the ability to create up to three audience profiles. This enables each child to maintain his or her own set of gems and have uniquely tailored experiences. It also allows more than one child to have access on a single iPad. The app is designed for children to enjoy alone or collectively with parents, grandparents, siblings and friends.
The Third Dimension of Play
Children can experience imaginative play with real-life 3D figures based on Kazaz! characters. At launch, families can order print-on-demand collectibles through the Kazaz! Kids website for an additional fee. Later this fall, families will be able to print a complimentary gift, along with other items at home using their own 3D printers.
Kazaz! will take advantage of Apple TV, so in the future the app can be enjoyed on the big screen, where the experience may be amplified with additional sights and sounds. Also coming soon, video versions of the stories will appear on the Kazaz! Kids YouTube Channel.
Kazaz! combines sight, sound and touch to offer the kind of immersive learning experience parents want for their kids. By combining technical advances and proprietary analytics to create a new approach to storytelling, Kazaz! innovates the learning experience and engages a child's curiosity in a fascinating way.
This is only the beginning for Kazaz! and American Story Channel. Future plans include additional stories, more sophisticated gamification experiences, availability in 11 languages, 3D figures in real gold and silver, and a children's animated TV series, among other exciting developments.
For additional information, visit KazazKids.com.
About Kazaz!
Discover Kazaz!, a world of interactive, animated stories that will challenge and ignite a child's curiosity. Our multi-sensory story-telling approach will enhance every child's learning experience, allowing their imaginations to soar with each new adventure to captivating make-believe islands. Ideal for children ages 3 to 8, our digital stories combine sight, sound and touch to help maximize even the youngest child's learning experience. Kazaz! extends the story experience with activities and information available on the Kazaz! Kids website and via Kazaz! Post, the planet's exclusive newspaper. Kazaz! is created by American Story Channel.
About American Story Channel
Based in Columbia, Maryland, American Story Channel is dedicated to continually innovating the children's story experience in the digital age. We're on a mission to entertain children ages 3 to 8 by transforming the old-fashioned, wonderful world of storytelling, using the latest technology and delivery channels to distribute stories that enrich the lives of children and their parents.  We deliver a high-quality, personalized experience that entertains through compelling stories, exciting gamification, and discoverable learning gems.