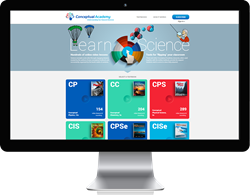 Conceptual Academy came to Promet with bold, innovative development goals that would require custom web development.
Chicago, Il (PRWEB) October 20, 2014
Promet Source is recognized for custom Drupal development projects. The recent launch of Conceptual Academy's Promet-built LMS demonstrates the power of Promet and Drupal.
Conceptual Academy came to Promet with bold, innovative development goals that would require custom web development. Promet was able to succeed because of experience working within the education industry (e.g. Iowa Department of Education, University of Northern Iowa and Chicago Public Schools). Further, their background in working with complex data integration, customizing modules, and architecture planning proved to be necessary for the project.
Conceptual Academy is an online learning resource providing hundreds of video lessons created by the authors of the "conceptual" line of textbooks, including Conceptual Physics, Conceptual Chemistry, Conceptual Physical Science, and Conceptual Integrated Science. The textbook is where students read; Conceptual Academy is where they can watch and listen. More than a library of video lessons, Conceptual Academy allows each instructor to organize these lessons—and the authors' other learning resources—around his or her own class syllabus. Students are held accountable for reading the textbook and watching the lessons by way of quizzes automatically generated based upon the chapter sections the instructor selects for each class. Students thus come to class fully prepared to learn the material under the expert guidance of their course instructor through a model known as "student-centered learning" where lectures are minimized in favor of active engagement.
Promet Source implemented Drupal 7, an open source CMS, to build the new Conceptual Academy site. Drupal was the best tool to meet their needs in terms of security, flexibility and usability. The Conceptual Academy site was built with the Organic Groups module that allows for the creation of customized courses, in which instructors run online classrooms with authenticated students. The site's architecture allows instructors to create textbook reading assignments through which video lessons are collated. Instructors can communicate through displayed messages to their group, they can post their own documents as well as their own video lessons, and also track student performance on assigned quizzes.
Promet provided a branded site with the client's resources as the focus. As a Learning Management System (LMS), the site is customizable for all users: textbook authors, instructors, registered students, self-study students, anonymous users and site administrators.
"It's this level of technical execution that gives Promet's clients access to advanced web application solutions. Our strength in technical capability and innovation allows clients (like Conceptual Academy) to satisfy their customers." - Maggie Graham, Marketing Manager of Promet Source.
About Promet Source: Founded in 2003, Promet Source is the champion of complex web development projects that require custom code, custom module development, custom APIs, huge migrations, sophisticated integrations and much more. Clients take advantage of Promet's flexible packages in 24/7 Support and Maintenance for any Drupal site. Promet specializes in Drupal development and support across a myriad industries: Association, Education, Government, and Media & Publishing.