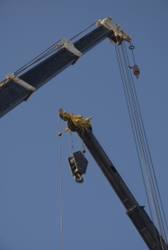 Total number of construction accidents rose by 5.7 percent in 2013 and the number of injuries also increased by 4.3 percent
New York, N.Y (PRWEB) October 24, 2014
A construction worker suffered fatal injuries after a partial building collapse in Midtown Manhattan the afternoon of Sept. 23. According to a Sept. 23 CBS New York news report, two men were working at the West 37th Street site, where a 22-story hotel is planned. They were digging against the foundation of an office building when a concrete slab about 4-by-8 feet collapsed from the adjacent building and trapped one of the workers, the report stated.
No other injuries were reported, but the Buildings Department officials checked surrounding buildings for structural damage and evacuated one building as a precaution, CBS reported. Investigators are also looking into whether the slab that collapsed was properly connected to the rest of the building.
The New York City Department of Buildings reports that there was a 62.5 percent decrease in fatal construction site accidents last year compared to 2012. In 2013, three construction workers died on the job compared to eight deaths in 2012. All three fatalities in 2013 had to do with fall-related accidents and lack of adequate fall protection at construction sites, the department reported. Despite the drop in fatalities, the total number of construction accidents rose by 5.7 percent in 2013 and the number of injuries also increased by 4.3 percent.
Falls are among the top causes of serious injuries and deaths at New York City construction sites, said New York personal injury lawyer Kenneth A. Wilhelm. "Our law firm has represented a number of workers who have suffered catastrophic injuries as a result of fall-related accidents. Some of the common injuries we see are brain damage, neck and back injuries, broken bones and internal organ trauma."
Wilhelm said workers who are injured or families of workers who have been killed on the job have rights. "It is important for injured workers and their families to have access to the resources they require at such a difficult time. Victims need help to pay for medical expenses, lost wages and other injury-related costs," said Wilhelm.
Employers must do everything possible to ensure workplace safety, Wilhelm said. "Fall safety gear such as harnesses, restraints, safety nets, guardrails as well as proper worker supervision is critical in order to prevent tragic construction site accidents."
Contacting the Law Offices of Kenneth A. Wilhelm
For questions or comments please contact the Law Offices of Kenneth A. Wilhelm. Our New York personal injury attorneys can help victims and families with construction accident cases. We can also help with personal injury cases in New Jersey, Connecticut, Pennsylvania, or Florida.
The TOLL FREE phone numbers for us are:
1-800-WORK-4-YOU (1-800-967-5496), 1-800-RADIO-LAW, 1-888-WYPADEK, OR 1-800-LAS-LEYES
The Law Offices of Kenneth A. Wilhelm 
445 Park Ave, 9th Floor 
New York, NY 10022 
(212) 545-7373
Please visit us at: http://www.WORK4YOULAW.com