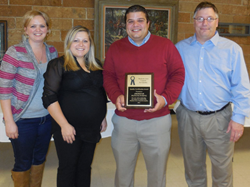 "We are extremely pleased to be recognized for our Quality. It has fueled our growth during our 106 year history of metal manufacturing"
Mankato, MN (PRWEB) November 05, 2014
Ameristar Manufacturing was selected for the 2014 "Quality Certification Award" by the Mankato Area Council for Quality. The Mankato Area Council for Quality has selected Ameristar Mfg. to receive this award based on several community based quality incentives. Ameristar Mfg. has provided thousands of parts to customers throughout the country and done so with such attention to detail they have consistently held a quality rating in the 90th Percentile. Ameristar Mfg. has represented the City of Mankato in such a way that provides reassurance that quality manufacturing takes place in the heart of Minnesota, gives back to the community, and promotes growth in the State of 10,000 Lakes.
The City of Mankato Area Council for Quality President Matt Chmielewki was quoted as saying, "There is no better example of a business concentrated on quality than Ameristar Mfg". Ameristar Mfg. was able to obtain an additional award this past year for progressive cost savings from a large agricultural customer whom they helped develop production savings from 1,000 pieces in an eight hour shift, to 1,000 pieces in an hour.
Ameristar Mfg. employees Daniel Sacco (Manager), Alesha Sacco (Special Accounts Manager), and Kristi Hawker (Special Accounts Assistant) were present to receive the award on 10/17/14. The Mankato City Mayor, Eric Anderson was also in attendance to congratulate Ameristar Mfg. on the award.
Ameristar Mfg. provides custom metal components, fixtures, and brackets to industries ranging from agriculture to solar power, and has done so with a constant concentration on quality performance. Ameristar Mfg. is competing in a global market for stampings, metal components, CNC machining, and Laser Cutting, and has done so by effectively doubling their stamping capacity over the last five years. Ameristar Mfg. has focused its internal company objective to its new Zero Policy, which states "Zero Rejects, Zero Late Shipments, and Zero Injuries.""