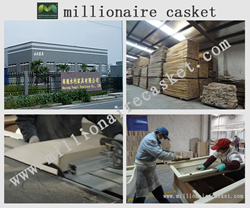 (PRWEB) October 18, 2014
MillionaireCasket.com, one of the most popular casket manufacturers in the global market, has released its new collection of infant caskets for worldwide distributors. Also, the supplier has announced an ash casket promotion. Now, all its brand new items come with a discounted price, up to 30% off. The big promotion will end on October 30, 2014.
It is worthy to mention that MillionaireCasket.com always takes everyone's budget into consideration. In the recent years, it has won thousand of satisfied clients across the world. Customers can find a lot of affordable items on its website.
"We are happy to launch the special offer on our high quality ash caskets. All these items are resistant to rust and corrosion. We are working hard to offer more great infant caskets for old and new customers. We have been in the funeral industry for decades," the company's chief executive officer states.
MillionaireCasket.com hopes that the special offer can save money for clients from all over the world. Its experienced specialists are striving to make more high quality infant caskets for its loyal customers. To meet the specific needs of different clients, its items are provided in many different specifications. The company's excellent infant caskets have greatly stimulated its business growth in the past few years.
About MillionaireCasket.com:
MillionaireCasket.com is a casket manufactory from China, which has been established for several years engaging in a coordinated process from designing, manufacturing to selling caskets. Its products can be found in most major distributors' shops from home and abroad. It has long-term cooperation with companies in Europe, America, Korea, South Africa and so on. More details at MillionaireCasket.com. More details can be found at http://www.millionairecasket.com/61-infant-caskes.