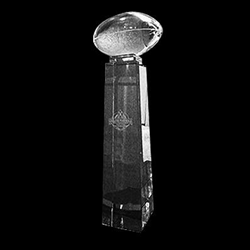 Charleston, SC (PRWEB) October 22, 2014
College Football Performance Awards (CFPA) announces the 2014 CFPA FCS National Performer of the Year Trophy Watch List. The initial watch list includes thirty players from the Football Championship Subdivision. All players are eligible for awards at their respective positions; players are not preemptively eliminated from consideration.
The list includes twenty-four quarterbacks and six running backs. Four watch list members have previously earned CFPA honors, including 2013 CFPA FCS National Performer of the Year Trophy winner Vernon Adams. Other winners of the CFPA FCS National Performer of the Year Trophy include: Colton Chapple (Harvard), Taylor Heinicke (Old Dominion), and Pat Devlin (Delaware).
2014 CFPA FCS National Performer of the Year Trophy Watch List:
Chris Brown (QB), Cal Poly
Austin Brown (QB), Charleston Southern
Jacob Huesman (QB), Chattanooga
Vernon Adams (QB), Eastern Washington
Chase Edmonds (RB), Fordham
Michael Nebrich (QB), Fordham
Justin Arias (QB), Idaho State
Marshaun Coprich (RB), Illinois State
Tre Roberson (QB), Illinois State
Mike Perish (QB), Indiana State
Caleb Berry (QB), Lamar
Josh Woodrum (QB), Liberty
Daniel Sams (QB), McNeese State
John Russ (QB), Mercer
Brandon Hill (QB), Monmouth
Dakota Prukop (QB), Montana State
Andy Vailas (QB), New Hampshire
Carson Wentz (QB), North Dakota State
Zach Adkins (QB), Northwestern State
Michael Strauss (QB), Richmond
Garrett Safron (QB), Sacramento State
Khairi Dickson (RB), Saint Francis U
Zach Zenner (RB), South Dakota State
Bryan Bennett (QB), Southeastern Louisiana
Mark Iannotti (QB), Southern Illinois
Gus Johnson (RB), Stephen F. Austin
John Robertson (QB), Villanova
Trenton Norvell (QB), Western Illinois
Morgan Roberts (QB), Yale
Tyler Varga (RB), Yale
About College Football Performance Awards:
The goal of College Football Performance Awards is to provide the most scientifically rigorous conferments in college football. Recipients are selected exclusively based upon objective scientific rankings of the extent to which individual players increase the overall effectiveness of their teams.
As prominent scholars from a wide variety of disciplines note, CFPA eliminates the politics and biases that vitiate balloting-based awards. Furthermore, CFPA has received praise from both Republican and Democratic White House officials for promoting objectivity and fairness in college football.
CFPA is now in its seventh season of player and team performance recognition. Twenty-eight CFPA winners have been first-round NFL Draft selections.