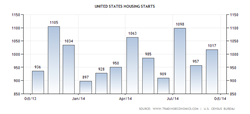 Both housing starts and building permits surpassed forecasts
Chicago, IL (PRWEB) October 18, 2014
Lenders like Peoples Home Equity were very pleased that housing starts rose a surprising 6.3% in September.
On Friday morning of October 17th, the U.S. Census Bureau released its monthly new residential construction report, telling the performance of housing starts and building permits in September. Housing starts were reported at a seasonally adjusted annual rate of 1,017 thousand which was better than the 957 thousand starts reported for August. In addition, building permits also rose to 1,018 thousand, a 1.5% rise from August. Both housing starts and building permits surpassed forecasts shown on TradingEconomics.com which were: 1,016.6 and 1,014.3.
Friday's news quickly patched over an 8.5% decline in the NAHB's Housing Market Index released on Thursday October 17th titled "Four-Month Upturn Ends as Builder Confidence Falls in October." This report initially concerned analysts over Friday's housing starts. Sometimes if builder sentiment is shown to have decline in the housing market index then housing starts fall as well. However, the reality is the NAHB's housing market index is probably just taking a healthy break after rising for 4 consecutive months, and housing starts are bound increase to satisfy the high demand Americans have for real estate.
The increase in housing starts and building permits is confidence inspiring for the entire housing industry. Lender, real estate agents, and most of all home buyers will benefit from the increase in supply for new homes. When new homes hit the market, homeowners have an incentive to sell their existing home for a new home. When existing homes are listed on the market America's youth, first-time home buyers, are able to purchase a property. Currently, a limited number of existing homes and even less new homes are offered on the market. In addition, lending standards have tightened and America's youth are overburdened by student loan debt. The loan officers at Peoples Home Equity understand that applying for a home loan requires some financial organization. The lender is always giving helpful suggestions to prospects on how to secure the lowest rate mortgage with the best terms.
If interested in purchasing a home, contact a Peoples Home Equity loan officer today at: 262-563-4026