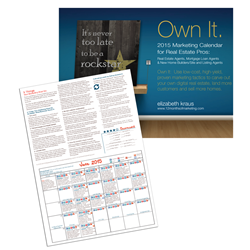 In 2013,48% of first time home buyers used the internet to find the home they bought. it's more important than ever that realtors have a strategy to attract buyers early in their home buying journey. -- Elizabeth Kraus
Seattle, Washington (PRWEB) October 18, 2014
Seattle-based marketing consultant Elizabeth Kraus has just announced the release of a new marketing guide for realtors and other real estate industry professionals on amazon.com. The guide, which is titled as the 2015 Marketing Calendar for Real Estate Pros lays out a full year's worth of marketing in a hands-on, easy to follow calendar format.
Bringing experience from working as marketing and sales manager for a regional home builder to bear, Kraus infused the real estate marketing guide with the same type of practical, low-cost marketing tactics that are laid out in the other industry-specific marketing guides she publishes each year for small business, salons and hair stylists, restaurants, dentists and others. By working the calendar for just a few months, or as little as a few weeks, she says, real estate pros can quickly begin to grow their contact lists, attract new clients, bring the attention of buyers to available properties, and more.
"These are the same types of marketing tactics that I employ on an day-in, day out basis," notes Elizabeth Kraus. "In fact, over the past few years, I have worked this plan and increased web traffic for two different organizations by more than 250% in a 12-month period. The key is to leverage your online and offline marketing strategies in a connected, consistent omni-channel approach, and to realize that at some point early on in the home buying or selling journey, the client is going to go online to look for someone to do business with."
Kraus is a strong proponent of using search-optimized content on business-owned digital real estate (such as a web site or blog) as a key component in any marketing strategy. Citing a BIA/Kelsey study which found that up to 97% of consumers begin researching local resources online, she says that it is not only critical for any organization to continually add content that will help people searching online to find their content, but also points out that while it can be time-intensive, it is a very low-cost way for a real estate office, title agent, home loan provider or independent real estate professional to quickly connect with local home buyers, sellers or renters.
"Many realtors digital strategies end with placement of their listing in a large directory service such as the MLS (Multiple Listing Service), Trulia or Zillow. That puts their listing in the position of competing with hundreds of other listings in their area. By using their own web site or blog to add even just one or two articles with property-specific content that includes the type of phrases that real buyers or sellers would type into a search engine, they create an instant opportunity for their specific property or business service to get found by local home buyers and sellers."
The 2015 Marketing Calendar for Real Estate Pros joins the 2015 Marketing Calendar for Independent Beauty Pros as the second marketing guide now available on Amazon, although 2014 marketing calendars for small business and salons and spas are also still available, as is 365 Days of Marketing, Kraus' first book about small business marketing.
***
Elizabeth Kraus is the author of 365 Days of Marketing and the 2015 Marketing Calendar for Real Estate Pros, available on Amazon.com. Residing in the Seattle area, she provides small business marketing consultation services and currently works as marketing manager for business finance company DB Squared.