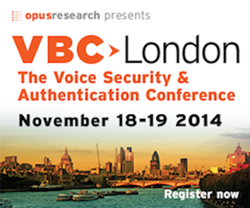 "Biometrics are gaining mindshare around the world," explains Dan Miller, conference chard and founder of Opus Research. "VBC-London is the only place to learn where voice fits with plans for simple, secure digital commerce."
San Francisco, CA (PRWEB) October 20, 2014
The use of biometrics for identification and authentication is gaining mind share around the world. Opus Research is pleased to convene a very timely gathering at VBC London 2014 (November 18-19, The Tower London) where attendees and speakers will address how voice fits into plans for simple, secure digital commerce.
Anne Grim, managing director of global client experience from Barclays, will present a keynote case study on supporting strong authentication over multiple channels. In addition, Paul Trueman, group head of enterprise security solutions with MasterCard, will discuss how to promote trusted communications and inclusive commerce around the world.
"Biometric technologies are embedded in mobile devices and integrated with customer care infrastructure around the world," explains Dan Miller, conference chair and founder of Opus Research. "With data from over 130 deployments involving 70 million enrolled voiceprints, VBC London 2014 is the only venue where knowledgeable individuals can share perspectives and vision based on real-world experience."
In addition to the keynote presentations, VBC London 2014 will also feature the results of Opus Research's Global Census of Voice Authentication Deployments. Dan Miller will provide an accounting of commercial deployments segmented by region, application and vertical industry. In addition, attendees will hear case studies, use cases and service descriptions from event sponsors, their partners and customers.
Representatives of Nuance, VoiceTrust, Verint, ValidSoft, NICE Systems, Agnitio and SpeechPro will be featured speakers, along with RSA, Equifax, Nok Nok Labs and iovation.
About Voice Biometrics Conferences (VBC)
Since 2007, Voice Biometrics Conferences, organized and produced by Opus Research, are the only global venue dedicated to developments and adoption of simple, secure and trusted multi-factor identification and verification. VBC London 2014 will be the thirteenth event in this well-received global series, following successful gatherings in Washington, D.C., New York City, Amsterdam, Singapore, and San Francisco, in addition to London.
About Opus Research
Opus Research, founded 1985, is an industry analyst firm focused on "conversational technologies," mobile search and e-commerce. The company's treatment and coverage of voice biometrics started in 2002.