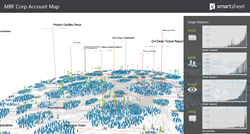 An enterprise can clearly see who's working with whom, what they are working on, and the content related to that work. The next closest thing from any vendor is a Prius compared to our Tesla.
Bellevue, WA (PRWEB) October 20, 2014
Smartsheet, the spreadsheet-inspired collaborative work management tool today unveiled a new way to visualize work and the various people contributing to it in Smartsheet. By breaking down the traditional organizational chart view of work management, the Smartsheet visualization shows how internal employees and external contributors form work clusters around certain processes to drive work forward. (Video example)
"We're delivering the only comprehensive work visualization tool on the market," said Mark Mader, president and CEO of Smartsheet. "An enterprise can clearly see who's working with whom, what they are working on, and the content related to that work. The next closest thing from any vendor is a Prius compared to our Tesla."
Smartsheet's work management tool is used by more than 50,000 paying organizations and millions of users worldwide to collaborate, plan, and execute a broad spectrum of projects and processes, including marketing campaigns, product launches, business operations, manufacturing processes, strategic planning and HR initiatives. Adoption across organizations grows quickly as users share sheets to collaborate with others. Many of the world's industry-leading organizations have deployed Smartsheet broadly such as Google, GSA, Netflix, Cisco, Bayer, Groupon, Pearson, HomeAway, McGraw-Hill Education, DHL, ESPN, Colliers, Sony Music, and MetLife.
From Project Visibility to Enterprise Wide Views:
For the individual user, Smartsheet offers a variety of ways to visualize projects via Gantt charts, calendar views, and its popular spreadsheet-inspired grid with graphical status indicators, such as RYG balls, checkboxes, conditional formatting and alert icons. An enterprise-wide Account Map provides organizations with a high level view of their usage of Smartsheet to identify patterns in work or team collaboration across the organization, visualize hubs of activity, and map it to corporate priorities. Account administrators can interact with the Map, clicking on individual users to discover projects and contributors.
"Having this level of visibility into how work gets done and how people internal and external to the enterprise collaborate is uniquely valuable to an organization," said Joshua Greenbaum, Principal, Enterprise Applications Consulting. "Smartsheet provides a lens into the critical issues of talent deployment and management that will provide managers and fellow employees with better outcomes for their key business processes and provide a level of analysis and planning that simply hasn't been possible before."
How It Works:
The Smartsheet visualization methodology is driven by a patented-protected algorithm that analyzes how work is executed across team boundaries. It identifies the groups of people – internal employees as well as external contributors such as clients, vendors, and partners – involved in projects.
"Because Smartsheet is used to coordinating virtually every kind of work from simple tasks to strategic programs, it's critical that business leaders have an enterprise-level lens on that work," added Mader. "From here, they can glean insights, shift priorities, and make informed investment decisions."
The Smartsheet Account Map is available for its enterprise clients. For more information, visit http://www.smartsheet.com/enterprise.
About Smartsheet
Smartsheet, a leading Software as a Service (SaaS) company, offers businesses an intuitive collaboration and work management tool. The ease of use of the familiar spreadsheet-like interface, coupled with file sharing, work automation and Gantt chart features, have made it a popular and highly functional collaboration and project management tool. Customers include construction companies, consulting firms, schools and universities, utility firms, government entities, healthcare organizations, high-tech firms, non-profits, manufacturing and law firms, among others. Additionally, Smartsheet offers mobile apps, pre-built templates and integrations with leading cloud apps such as Box, Dropbox, Salesforce, and Google Drive to ensure users are up and running quickly. Visit http://www.smartsheet.com for more details.
###