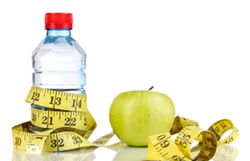 Nutraceutical brands can help people get off on the right foot by ensuring their product labels are easy to understand and straight forward.
Denver, CO (PRWEB) October 21, 2014
While many brands have begun preparing their product packaging for the holiday season, supplement companies should already be hard at work on their nutraceutical labels for what comes after - New Year's. Lightning Labels, a custom sticker and label printing company, can assist companies as they look to roll out fresh looks that will pique the interests of prospective customers for 2015.
The holiday season is ripe with overeating and poor food choices, defined by Americans celebrating Thanksgiving with large feasts or eating a bit too much Christmas candy. This motivates many people to clean up their diets and shed a couple of pounds for the new year. In fact, data from Statistic Brain and the University of Scranton's Journal of Clinical Psychology found that losing weight was the top New Year's resolution for 2014, with nearly 38 percent of respondents making at least some type of diet-related promise to themselves.
"As we all know, seeing New Year's resolutions through to completion can be a challenge," said Scott Proctor, Vice President of Sales at Lightning Labels. "Nutraceutical brands can at least help people get off on the right foot by ensuring their product labels are easy to understand and straight forward. This helps people choose the right supplements to accomplish their goals."
Supplement Labels Need to Be Informative and Compliant
As nutraceutical brands look to engage people with New Year's resolutions, it is crucial their supplement labels are not only able to capture the attention of prospects, but also contain applicable information to maintain compliance with local regulations.
The U.S. Food and Drug Administration has shown little hesitation when it comes to forcing nutraceutical brands to recall products due misleading labels. Whether it is because an ingredient is not listed on the product packaging, omitting possible side effects or making claims that cannot be proved, it is not unusual to see regulatory bodies take action against mislabeled supplements.
As nutraceutical companies look to roll out their new supplement labels, it is important they keep relevant rules and restrictions in mind. They want to make the product appealing from a marketing perspective, but they also want to steer clear of any potential issues that may get their products pulled during this crucial time period and force them to have to revise their labels quickly. It is a fine line that all product manufacturers must walk, but for nutraceutical and supplement companies, it is even more important.
Choosing the Right Custom Bottle Labels for the Product
Whether brands are producing herbal remedies, vitamins or any other nutraceutical products, it is crucial they work with the right label printing company to get the perfect custom bottle labels.
Lightning Labels offers a number of different custom sticker and label printing options that can fit the size and shape of any container. Additionally, Lightning Labels has a 48 to 72 hour turnaround time, no set-up or added fees and free printed press proofs (shipping charges apply) for all label and sticker orders. Regardless of which option companies choose, their satisfaction is guaranteed!