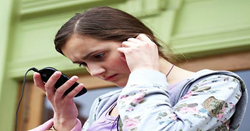 Sexting is taking over our teens' phones and it needs to be stopped before damaging more lives than it already has.
London, UK (PRWEB) October 20, 2014
It is now a fact of life that children as young as five or six years old have their own smart phones, so when it comes to teens, they are exposed to numerous dangers of constantly having their own private outlet to the internet world. NoBullying discusses the trend of Sexting and what teens are doing with their phones in an article released today.
The term "Sexting" simply refers to any explicit material, whether it is a message or an image, which is sent via email or text message between two people whether underage or adults. This message exchange could be a picture of themselves, a message about a sexual act they would like to perform, or a sexual act they would like to receive. The variations of these "sexting conversations" are limitless and are not a new notion. The term was developed in 2005 and most teens are engaging in sending and receiving these messages, initially, either out of curiosity or because of peer pressure.
What is more alarming is that teens are actively trying to "better" their sexting experiences by searching online for terms like "how to sext" and "how to get a girl to sext". This means that this, in their books, sexting is no longer taboo for teens and is a fact of their daily goings and activities.
One of the biggest problems with sexting stories is that teens believe it is harmless fun because no sexual acts are occurring. The problem there is they are not keyed into the emotional ramifications associated with sexual discussions. There are also thirteen states in the United States that have laws against sexting that most teens are not aware of. Therefore, if the parents of the other person on the receiving end of these "sext messages" do not like what they are seeing, there could be legal ramifications that could have lifelong consequences.
It is very essential for parents to have a long conversation about digital footprints everyone leaves online as well as the dangers of sexting such as photos being spread around and hurting their reputation forever or being deemed "sluts" by their school peers. It is essential to talk to teens about the making of a good respectable relationship and the importance of respecting their significant others enough not to demand sexually suggestive photos that may go viral by mistake or on purpose.
Ciaran Connolly, Co Founder of NoBullying, notes that these stories need more research and communication and even possibly stricter intervention on the parents' side. There is no one article or one resource that could parents at ease when it comes to their children's safety in school and online and talking things out with children and keeping a close eye for signs of sexting and sexual promiscuity is key.
Connolly says, "Sexting is taking over our teens' phones and it needs to be stopped before damaging more lives than it already has."
He added that parents and teachers should make a point to educate the younger generations about the sad outcome of bullying online and offline. According to Connolly, it is quite imperative to press for more firm laws condemning all acts of bullying and harassment.
NoBullying.com features many pages dedicated to parents, teens, teachers, health professionals as well as posts related to cyber safety and the latest news about law making concerning curbing Bullying worldwide as well as inspirational Bullying Poems and famous Bullying Quotes.
The website regularly updates its bullying statistics and cyber bullying statistics as it is essential to understand how widespread the bullying epidemic is. It also regularly runs cyber bullying surveys and questionnaires to get recent updated statistics on everything related to cyberbullying.
He also added that anyone suffering from bullying in any form or way can always find advice and help on the NoBullying website – but if anyone is suffering from severe bullying or cyber bullying, the best thing is to talk to someone locally – a parent, teacher or local organization that has been set up to help with specialized councilors to deal with this topic.