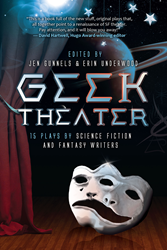 "This is a book full of the new stuff, original plays that, all together point to a renaissance of SF theater. Pay attention, and it will blow you away!" – David Hartwell, Hugo Award-winning editor
Marblehead, MA (PRWEB) October 21, 2014
Underwords Press announces the publication of Geek Theater, a new anthology of science fiction and fantasy stage plays, edited by Jen Gunnels and Erin Underwood, which will be available in trade paperback and ebook on November 4, 2014.
"This is a book full of the new stuff, original plays that, all together point to a renaissance of SF theater. Pay attention, and it will blow you away!" – David Hartwell, Hugo Award-winning editor
"Give this book the standing ovation it deserves." — Robert J. Sawyer, Hugo Award-winning author of FlashForward
ABOUT THE BOOK
Geek Theater showcases 15 science fiction and fantasy stage plays by some of today's top authors and award-winning playwrights and is the first anthology that truly delves into the world of speculative fiction theater. Until recently, modern science fiction and fantasy stage plays have largely gone unnoticed despite the proliferation of plays and performances by theater companies around the world. These plays are an important part of the science fiction and fantasy canon as they represent a unique intersection of authors and playwrights producing work at a time when these genres are flourishing.
FEATURING PLAYS BY:
Liz Duffy Adams, Jeanne Beckwith, Cecil Castelucci, F. Brett Cox, Andrea Hairston, Carlos Hernandez, James Patrick Kelly, John Kessel, Chie-Hoon Lee, James Morrow, Mac Rogers, August Schulenburg, Crystal Skillman, and Adam Szymkowicz.
ABOUT THE EDITORS
Erin Underwood is the co-editor of the Futuredaze science fiction anthology series for young adults. Her fiction, non-fiction and interviews can be found online and in print.
Jen Gunnels is the Theatre Editor/Drama Critic for the New York Review of Science Fiction. Her reviews and essays can be found online and in printed collections.
Underwords Press is a small press whose mission it is to publish short science fiction for young adults and unconventional literary projects within the science fiction and fantasy fields.
$24.95 trade paperback | ISBN: 978-0-9858934-6-0
$14.95 eBook | ISBN: 978-0-9858934-7-7
Publicity/Reviews: editor(at)underwordspress(dot)com