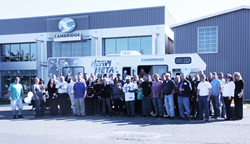 'The Heavy Metal Tour is a great opportunity for our customer service team to bring Cambridge solutions and capabilities directly to our valued customers.' Tracy Tyler, CEO
Cambridge, Maryland (PRWEB) October 20, 2014
Cambridge Engineered Solutions, the world's largest manufacturer of metal conveyor belts for industrial and food processing, recently unveiled the first leg of its Heavy Metal Tour to introduce new product lines at plants across the U.S. Combining creative elements of a concert tour with today's popular food trucks, the company is visiting 30 customers over six-weeks in North Carolina, South Carolina, Georgia and Alabama.
"The Heavy Metal Tour is a great opportunity for our customer service team to connect with valued clients and strengthen business relationships," said Tracy Tyler, Cambridge CEO. "Our Southeast customers include many baked good, snack and poultry companies looking for production innovations to increase efficiencies and food safety." She added, "Heavy Metal allows us to bring those solutions and capabilities directly to our valued customers."
At each stop, Cambridge specialists evaluate conveyor systems conduct technical workshops and preview new capabilities for the food processing industry. The team also serves breakfast or lunch featuring products made on Cambridge belts from the mobile 'food truck' counter.
The inaugural six-week tour is being coordinated with Atlanta-based Belt Power. "As a full-service conveyor components distributor and fabricator, we've carried Cambridge's metal belts and filtration screens for more than 12 years," said John Shelton, President. "They've earned a reputation for outstanding products and service in our key markets. We're proud to partner with them on this engaging outreach campaign."
The 25-foot RV is adorned with the Heavy Metal Tour logo and super graphics of Cambridge belts. The customized interior features the company's signature metal fabric on counters, shelves and tables. The showroom includes model conveyors, belt samples and new products. A second leg scheduled for early 2015 will take the Heavy Metal Tour to Tennessee, Arkansas, Louisiana, Mississippi and Texas.
"Cambridge became the world's leading manufacturer of metal belts by building our business one customer at a time," said Brand Manager Nicole Evans. "While technology makes it possible to communicate with anyone, anywhere, anytime; we believe our greatest value as a company is the emphasis we place on longstanding, personal relationships."
Cambridge designs and fabricates metal conveyor belts for companies around the world in food processing (baking, beverage, meat, poultry and snack foods), agriculture, packaging and industrial manufacturing (automotive, building products, carpeting, chemicals, electronics, glass, high temperature environments, protein and solar energy). For sales and service, call (410-901-2660).
####
About Cambridge Engineered Solutions
Cambridge Engineered Solutions (CES), a division of Cambridge International, is the world's largest metal conveyor belt manufacturer and a global leader in filtration screens. For more than a century, Cambridge has developed dynamic solutions, revolutionizing industry automation and plant operations. With more than 15 exclusive product lines and over 50 patents, our team of dedicated engineers and experts continually devise new methods to make lines run smoother, faster, and handle more product weight. For information visit: http://www.cambridge-es.com, email sales(at)cambridge-es(dot)com or call 410-901-2660.