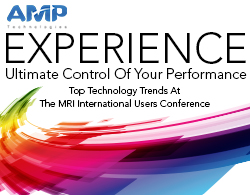 "Technology changes quickly, if you aren't ahead you have already fallen behind. At AMP we are focused on driving the ultimate experience for our Users with the best technology available."- Arvind Sathyamoorthy, CTO and VP of Product at AMP Technologies
Silicon Valley, CA (PRWEB) October 20, 2014
This year will mark the 20th IUC for MRI – a huge milestone that speaks to the dedication of their team. The 2014 IUC is focused on the User Experience; a passion shared by both MRI and AMP. Anticipating what the future of Real Estate will bring and delivering that to the industry is a commitment AMP will continue to make.
Click to Explore The Power of AMP –Performance Driven NEW User Interface
Arvind Sathyamoorthy, AMP Technologies CTO and VP of Product shares, "Technology changes quickly, if you aren't ahead you have already fallen behind. At AMP we are focused on driving the ultimate experience for our Users with the best technology available. Our new User Interface will deliver what matters most to our clients in a simple and clear way; this is what a great User Experience is all about."
AMP is Lighting Up The User Experience to drive smarter data, flexible mobile capabilities and performance like never before. With AMP's Reinvented User Interface, Users will benefit from Real Time access to their Financial Performance, Operational Metrics, Revenue, and Lease/ Tenant Health in a new and simplified way. This advanced technology delivers a new level of excellence.
AMP is proud to showcase their revolutionary operating platform for Commercial Real Estate. The initial reactions from clients and partners have been unbelievable. Being a part of the energy at MRI just adds to the excitement.
Click To See The Next Generation of Intelligence – EXPERIENCE A DEMO
The User will be taken to another dimension of excellence with the reinvented intuitive design and smooth integration in the new UI, making the experience of gathering and analyzing information more simplified than ever before. AMP delivers increased organizational efficiencies and the ability to quickly predict future opportunities from anywhere in the world on any device. Backed by the best technology and most advanced team, AMP is committed to seeing their Users reach unbelievable success.
View The Latest Advancements In Technology –CLICK HERE
Tapping into innovation through best-of-breed mobility, cloud infrastructure and collaboration to deliver business intelligence focused on revenue health, risk management and tenant strength. Connecting relative data to operational intelligence so organizations gain extraordinary results. The advanced User Interface delivers Deep Insights on Clients and Tenants that help deliver increased Net Operation Income.
About AMP Technologies
Visit AMP Technologies – CLICK HERE
AMP continues to see top Commercial Real Estate organizations request to sign up for their innovative platform and utilize their cost effective service offerings around due diligence, property accounting, lease administration, asset management and data standardization. AMP combines best-of-breed performance with speed and accuracy. Their company is built on what clients need to make their job easier – simplicity is at the core. Intuitive and innovative solutions drive a profitable business; this is what AMP delivers.
Headquartered in Mountain View, California, AMP Technologies provides a suite of products and services for commercial real estate asset management. The AMP Technologies Platform is a powerful, yet highly intuitive, platform to monitor and manage individual properties and large portfolios. Its products are built on best-of- breed cloud technology and are designed for the modern enterprise to provide sophisticated business intelligence, collaboration and management tools. With a comprehensive, yet highly intuitive, platform for monitoring and managing individual properties to entire portfolios, AMP provides the key tools needed for every level of management for effective analysis and decision-making.