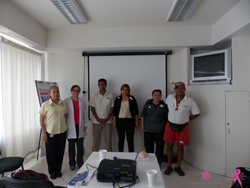 Cancún, Q.Roo (PRWEB) October 20, 2014
From the beginning of the '90s, October was designated as Breast Cancer Awareness Month and a pink ribbon is worn as a symbol of a growing consciousness about the disease. Other activities aimed at showing support include up-lighting the façades of landmark buildings with pink and organizing races or walks. At our resorts, we aim to create awareness among our collaborators and the community in general about the importance of prevention.
We know that breast cancer is curable if detected on time and with the right treatment. In order to detect it, self-examination is recommended once a month from the age of 25 onward and, in the case of women, preferably in the days following a menstrual period, besides consulting with a gynecologist at least once a year. Let's campaign and keep the women we love informed.
Many businesses in the world are hopping on the health and awareness bandwagon; they have stretching breaks or create special spaces for relaxation, many others create health weeks where in a few days a great amount of information is given about subjects of interest that inspire us to look after ourselves and our loved ones.
Health week at Sunset World takes place from October 6th to the 17th and promotes the fact that knowledge is power and better understanding gives us the tools to do the right thing, thus we can do our bit for a healthier world. The 1st conference on October 6th presented by psychologist Silvio Medina will deal with drug addiction and alcoholism and will be held again on October 10th, 13th and 14th at different locations. The theme of the month, Breast Cancer Prevention, will be presented by Doctor Marinee Torres on October 7th, 8th, 15th and 17th. On the 8th and 9th Elizabeth Jarquín will speak about family communication and on the 10th, psychologist Luis León will present Life Skills at Hacienda Tres Ríos. It will certainly be a week full of health related subjects and important information for a better understanding of subjects that are truly relevant in our days.